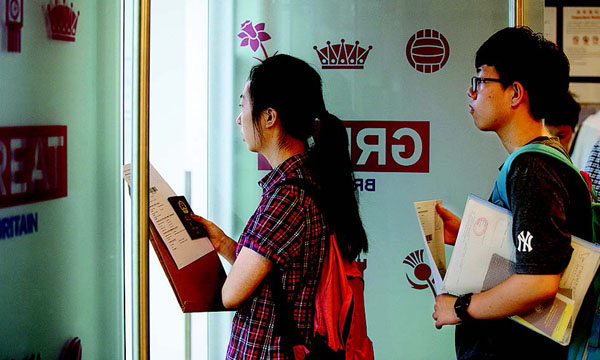 Applicants for visas wait in line at the British visa center in Beijing on Oct 5, 2014. [WANG JING / CHINA DAILY]
China has replaced India to become the biggest country in terms of the annual quantity of British visa applications, the newly appointed British Ambassador to China Barbara Woodward said at a press conference in Beijing on Wednesday.
In 2014 alone, the number of British visas issued in China reached a record high of more than 400,000.
Woodward said that Britain has begun to issue long-term visas for either business trips or normal tourism, and that as long as the applicants keep sound records on previous visits to Britain, they will have the right to apply for multi-entry visas valid for one year, two or five years and even up to 10 years.
The British are trying every means to find more convenient ways to cater to Chinese tourists, which, however, does not necessarily mean joining the Schengen visa scheme, she said.
Woodward, who spent two years teaching English in China as of 1986, described UK-China ties as a Chinese tripod with the three legs respectively being the political exchange, the economic exchange and the nongovernmental exchange, which are all indispensable.
Prince William's visit to China created opportunities for the two countries to strengthen exchanges in the fields of culture and art, the ambassador said, adding that there will be more activities next year to mark the 400th anniversary of William Shakespeare's passing away.
Woodward took office as ambassador to China in February 2015. She joined the British Foreign and Commonwealth Office in 1994, and has respectively worked in China, Russia, the European Union and the United Nations.