A charity run "Run to Give 2015", sponsored by Starwood Hotels & Resorts Worldwide Inc. (Starwood) was held at Shanghai Sheshan National Tourist Resort on Oct 11.
The charity run, hopes to promote social integration and gradually overcome the prejudices and discriminations against the special–needs groups.
The activity attracted a total of 472 participants including Starwood employees, runners and philanthropists.
It raised 84,488 yuan ($13,315) through auction and donation.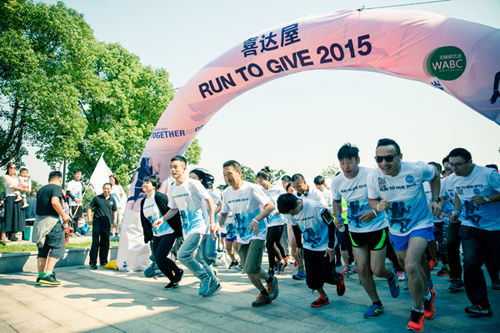 472 people joins the charity run. [Photo/sheshantravel.com]
The money will be donated to World of Art Brut Culture (WABC), an NGO that helps the intellectually impaired develop their artistic potential through training programs. The NGO also tries to make the general public more responsive towards the artistic gifts of the special-needs groups through exhibitions, charity bazaars and other activities.
WABC has been in cooperation with Starwood since last year and launched a charity painting exhibition in Guangzhou, Guangdong province.