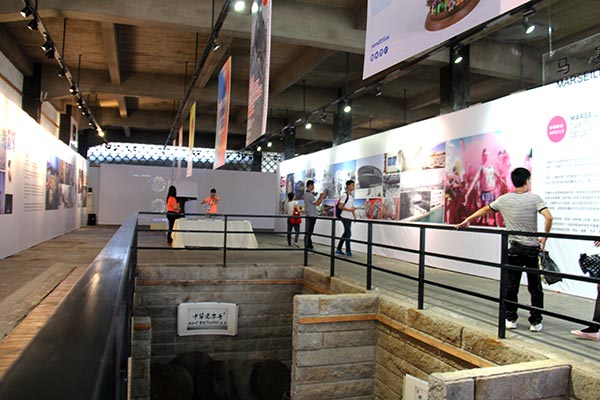 The public exhibition space of Yuanhe 1916 Creative Park hosted BCAF's Culture Cities, Charm of the World exhibition; a mix between cultural cities in Asia and Europe. [Photo by Nick Bedard/chinadaily.com.cn]
When the Culture Cities, Charm of the World exhibition opened its doors at the 14th Asia Arts Festival in Quanzhou's 1916 Creative Park, director Cui Qiao literally stood in between two different continents, two different cultures, two different identities - European and Asian.
Curated by the Beijing Contemporary Art Foundation (BCAF), a foundation which Cui Qiao started two years ago, the exhibition displays some of the richest cultural cities from the two locations in a historical Quanzhou wine making building. Mons (Belgium), Marseille (France), and Ruhr (Germany) are showcased as the European cultural representatives while Yokohama (Japan), Gwangju (ROK) and Cheongju (ROK) represented Asian culture.
"We think Cheongju, Korea is a really good example of a cultural city. Traditionally, only art professionals knew of this city. Others might think of Cheongju as just a small city somewhere in Korea. But Cheongju did very specific planning to display their culture, a lot like some of the European countries have done in the past," says Cui Qiao.
A lot can be learned by observing art; Cui Qiao wants to put this on a grand scale by showing how European and Asian cities preserve their traditional cultures while innovating in new art projects. Cui Qiao says different cities can learn from the methods used by these exemplary cities from Europe and Asia.
"Sometimes in China the cities can seem quite similar," says Cui Qiao. "In Europe, they have better methods of converting old factories into creative parks in a sustainable way. In terms of planning, this method is based on the society and public engagement. By bringing this type of exhibition in the heart of the 14th Asia Art Festival, we hope that people can learn from these European methods on how to go about developing such projects."