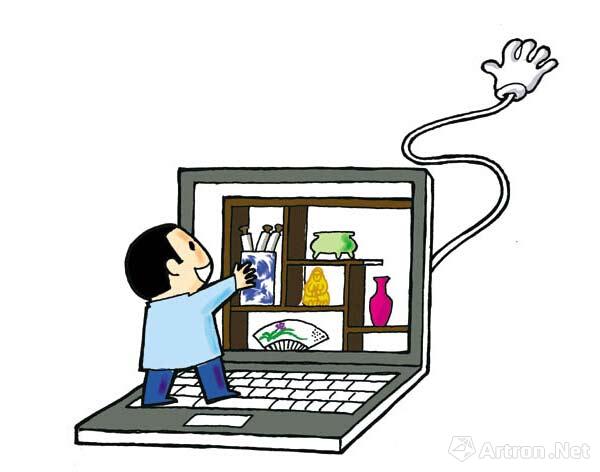 [Photo/Artron.net]
As the Internet develops, opening antique shops and buying artworks online are not news nowadays.
Online stores selling art pieces are now even participating in the Single's day online carnival, with many offering promotions on Nov 11.
Apart from buying and selling artworks, online bidding is also becoming trendy. China's Taobao, a big online retailer, sold works of Picasso and Salvador Dali for the first time during its Taobao Spring Auction in May 2014. The bidding started at 1 yuan (16 cents).
According to Xi'an Evening News, the total online transaction of artworks around the world was 1.57 billion yuan in 2013, an increase of 19 percent compared with the previous year.
In China, the online art transactions reached nearly 3 billion yuan ($470 million) in 2013, a year-on-year growth of 67 percent. The growth rate is much higher than Europe and America, based on the statistics released from China's Art Market Research Center (AMRC).
Online art transaction has low access
However, western countries worry that online sale of art in China is mostly low and cheap and this could influence the whole online art market around the world.
The online art market in China indeed has some problems, as the industry is new and more regulation is needed. During recent years, fraud cases have emerged during online transactions.
Compared with the millions of auction items on the international online art market, China's online artworks are mostly set between 10-5,000 yuan ($1.6-786.5). Seemingly, every art lover in China can enjoy the fun of buying art online, while some analysts say that it actually just moves street markets to the Internet. Thus, the access is low, and real art will lose its competitiveness. What's more, the public's art level will be lowered and the art market built on appreciation of beauty will be in dilemma.
Online art selling has some disadvantages, such as buyers can't touch and feel the art before buying, the price is set and can't be bargained, there is no third party who can guarantee the quality of the goods.