Robot exhibition to attract eyeballs in CHTF
China has been the largest market for industrial robots worldwide for two consecutive years. This year's China Hi-Tech Fair (CHTF) scheduled to be held in Shenzhen during Nov 16 and 21 will set up a parallel session for robot exhibition.
According to the CHTF organizers, the exhibition aims to demonstrate the latest achievements and industrial application examples in robot sector, so as to promote the multi-cooperation in related technology and capital in a global context.
The 17th CHTF robot exhibition will take place from Nov 15 to 30 in the B Section of Shenzhen Civil Center. It will highlight world's top-level products in fields such as the mobile robots, industrial robots, medical robots and robots for personal service, as well as newly-developed mechanical arms.
The exhibition will see the domestic debut of the mechanical arms used for NASA's lunar and Mars exploration rovers, among others. Besides the exhibition part, the robot parallel session will host a "world robot technology and application forum," on Nov 17.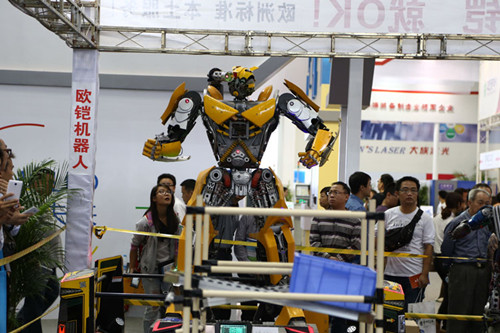 A robot on display at the 16th CHTF in this Nov 18, 2014 file photo
Overview of CHTF

CHTF is the largest and most influential scientific and technological fair in China.

How to visit CHTF

CHTF offers special service to professional visitors. You can apply for registration as a professional visitor on the CHTF website during the valid time.

How to get SZCEC

SZCEC is only 30 minutes from Shenzhen Railway Station and Luohu check point by bus, or 15 minutes by metro.
Read More