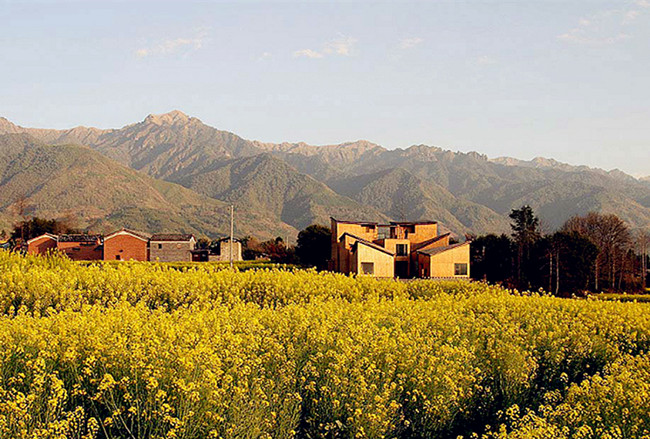 Spring is the most beautiful season at the museum. It is completely surrounded by golden cole-flowers. [Photo provided to chinadaily.com.cn]
Located in a field next to Xinzhuang village at the foot of Gaoligong Mountain in Northwestern Yunnan province, the Museum of Handcraft Paper looks different from any other construction in the village, but in accord with the local environment and landscape.
Designed by Beijing Trace Architecture Office (TAO) and completed in early 2012, the museum is conceived as a micro-village, a cluster of several small buildings. All the buildings are designed with the traditional Chinese wood structural system featuring nail-less Sun Mao (tenon) connections, which can be skillfully built by local builders. Local materials such as fir wood, bamboo, volcano stone and handcrafted paper were used for the exterior finish - the roof, floor and interior finish, respectively. As time passed, these materials became worn and faded into a more harmonious color with the landscape, suggesting a time worn feel to the buildings.
The museum functions like a window into the village, in the sense that the whole village functions as a big museum, because each open building shows an aspect of the papermaking process.
The village has a history of 700 years of handcrafted paper making. More than 10 years ago, almost every family ran a papermaking workshop after completing farm work. Along with the development of the modern paper industry, handcrafted paper withdrew from the main paper market gradually because of its high material and labor costs. Now, only seven to eight families still insist on making handmade paper. Most of the paper made is low cost and of general quality. It is used for packing Puer tea or burning as an offering to the dead during religious ceremonies or sacrificial activities.
According to Long Desheng, owner of a handcraft paper workshop, his sales of handmade paper are well enough. However, compared to some of the migrant workers in the village, his income is still less, but life is busier.
"To me, there is no obvious decrease in handcrafted paper sales in recent years. We can make more than 10 different kinds of paper, different in size and thickness, and earn 70,000 to 80,000 yuan ($11,011 to $ 12,584) from my business each year. Meanwhile, we have to farm. My daughter helps me a lot. She works with us on weekends and vacations. Life is always hard, but it could be better and better, I suppose," he said.
"It's a pity that fewer and fewer people here are engaged in papermaking. You know, it can't make a lot of money, so most of the young villagers prefer to work in the cities. Although we earn less than some migrant workers in our village, I'd rather stay here to take care of my daughter, and run my own business. Maybe I'm too lazy, but that's my choice," he added.