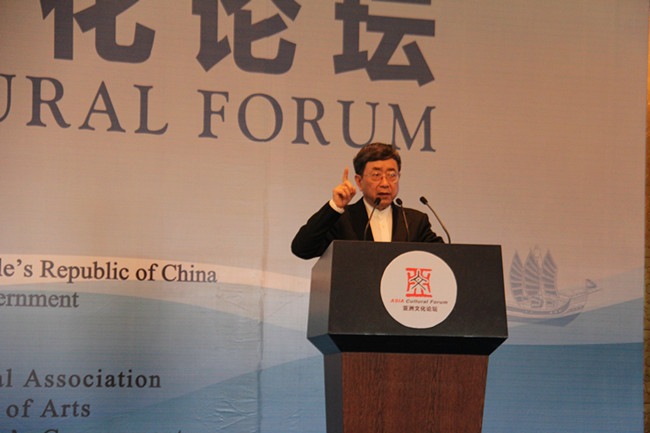 Chinese writer and scholar Yu Qiuyu shares his thoughts about Asian cultures. [Photo by He Keyao/Chinaculture.org]
The 3rd Asia Cultural Forum in Quanzhou, which was staged from November 9 to 10, saw "cultural celebrities" from various countries gather to explore the future for Asia.
More than one hundred scholars, community leaders and officials from 13 countries participated the event, including China, Japan, South Korea, Indonesia, Myanmar, Afghanistan and other Asian countries.
Chinese deputy minister of the Ministry of Culture Ding Wei, former Thai deputy prime minister Phinij Jarusombat, Nobel literature prizewinner Chinese writer Mo Yan, Japanese15th – generation Grand Master (Lemoto) of Urasenke Genshitsu Sen and other representatives took part.
Themed "One Belt One Road-building dialogues with Asia", the forum discussed the impact of culture on transnational cooperation within Asia and explored channels for deepening mutual trust and understanding.
"There is never a simple political dialogue without economic interest; yet there is never a simple economic dialogue without cultural exchanges," said Mo, stressing the universality of culture. "Therefore the Silk Road is a cultural route. Its economic benefit is temporary, yet the cultural impact it brings us is far-reaching."
Mo emphasized that traditional cultures are treasures and that transnational exchanges should be conducted on the basis of preserving traditions.
"Traditional cultures built the foundation for communication and exchanges," he said, giving as an example his travel experiences in Korea. He said there is a custom where Korean people exchange their cups on the table when showing friendship. This echoes a Chinese ancient idiom "Ju Bei Huan Zhan" (lifting and exchange cups). The interesting details of everyday life show the cultural connection in different countries in Asia.