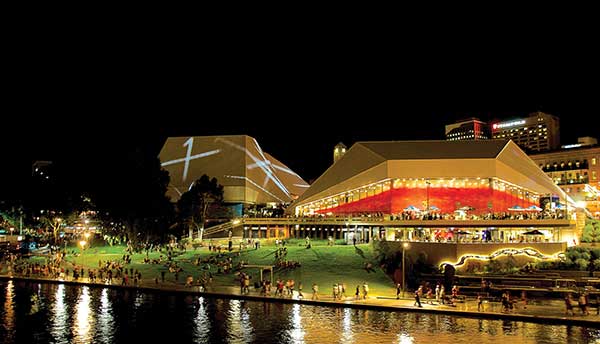 Adelaide Festival Centre, a cultural landmark in South Australia, is reaching out to Chinese artists and theaters.[Photo provided to China Daily]
The Australian city's festival center has just inked a deal with the National Centre for the Performing Arts in Beijing. Chen Jie asks the artistic director about what to expect.
The best-known arts center in Australia probably is the Sydney Opera House, but Douglas Gautier always feels proud that the Adelaide Festival Centre, which opened three months before Sydney's in 1973, was the first of its kind in the country.
On opening night 42 years ago, Gautier, now CEO and artistic director of the center, was a drama student at the Flinders University and had a walk-on part in the opera Fidelio.
Ever since, his passion for theater has led to a long career in this field. Next year will be his 10th anniversary running the Adelaide Festival Centre, and Gautier's push to bring in a vibrant program includes signing a cooperation memorandum with China's National Centre for the Performing Arts to share resources.
"It's a privilege to have this connection with the NCPA," Gautier told China Daily when he came to sign the memo in Beijing recently. "Adelaide is a smaller city but a pre-eminent festival city. We would like to exchange ensembles and share educational programs.
"The importance of exchanges is to put people together and then come out with ideas, the planning of the future, that their thinking brings."
He also noted that his center has the Bob Hawke Fellowship, established by Australia's former prime minister for young artists. Gautier said they plan to share the fellowship with the NCPA to look for Chinese talents to come to Adelaide.