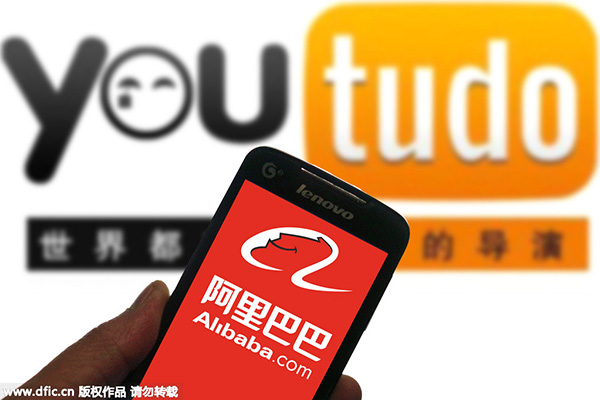 HANGZHOU - China's Internet conglomerate Alibaba announced Friday that it has signed an agreement with Youku Tudou Inc on an all-cash offer to acquire the rest of the country's most popular online video streaming website.
Alibaba currently owns 18.3 percent of the outstanding shares of Youku after a strategic investment in April 2014. It would buy the rest for $27.6 per American depositary share (ADS) in a $4.35 billion deal.
The price, one US dollar higher than its initial bid made on Oct 16, represents a 35.1 percent premium to Youku's closing price on Oct 15.
Youku shares ended 0.33 percent lower to close at $24.37 in New York on Thursday.
Youku's board of directors have unanimously approved the merger and recommends shareholders authorize and approve the deal, the two said in a statement.
"We are eager to work with Alibaba to grow our multi-screen entertainment and media ecosystem. We are confident that we will strengthen our market position and further accelerate our growth through the integration of our advertising and consumer businesses with Alibaba's platform and Alipay services," said Victor Koo, chairman and chief executive officer of Youku.
The deal requires support from at least two-thirds of Youku's shareholders. Alibaba and the parties which support the agreement own about 60.6 percent of the total voting power.
The transaction is expected to close in the first quarter of 2016.
Under the agreement, Youku's founder, Victor Koo, would continue to lead the business as chairman and CEO.
Youku currently has more than 500 million active users.
After ambitious investment and acquisitions over the past few years, Alibaba, which once mainly focused on e-commerce and digital payment, has entered an array of new businesses, like digital mapping, music, taxi hailing, group buying, instant messaging and online tourism and learning.
Alibaba's shares soared 51 percent from an all-time low of $57.2 on Sept 29 to close at $85.38 on Thursday. Despite the rally, its shares were still 29 percent off its all-time-high of $120 a year ago.