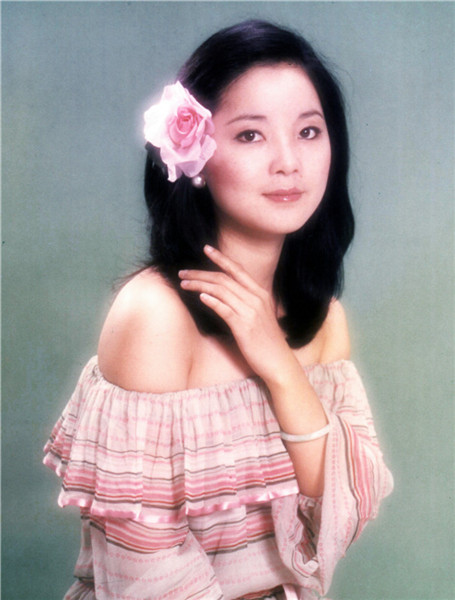 Teresa Teng in 1977. [Photo/Xinhua]
Twenty years after iconic singer Teresa Teng died of an asthma attack, her fame is far from abating, and a biographical television series reportedly is in the works between Taiwan producers and those on the Chinese mainland.
The development was reported by Xinhua News Agency, which cited Teng Chang-fu, the singer's elder brother, who has been in charge of her estate. Hunan Satellite Television, a heavyweight in China's television market, will be involved, and production will begin late next year, Xinhua reported.
Teng, born and raised in Taiwan, never set foot on the mainland. However, her influence was acutely felt by those searching for a singing voice in the aftermath of the "cultural revolution" (1966-76). Her murmurs about and pinings for love were like a gale of fresh air, and singing had once more taken on the function of personal expression.
Ironically, Teng's songs were never broadcast on the radio. She was unofficially banned as a bad influence of "bourgeois decadence". But the introduction of cassette tapes spread her music throughout China in the late 1970s and early 1980s, when people listened to her songs with an almost religious fervor.
As the country further opened up, Teng was no longer taboo, and mainland reporters and agents contacted her. There were major efforts to get her to perform on the mainland, where she enjoyed immense popularity. But politics again intervened and that never happened.
Musically, Teng had an uncanny ability to fuse Chinese folk music and various styles of pop music, widening her appeal to almost every demographic in China. She also had a gift for languages, singing in Mandarin, Cantonese, English and Japanese, among others, with equal fluency.
Since her death, there have been a feature film, Comrades: Almost a Love Story, which was centered on one of her signature songs, as well as a musical and concerts featuring Teng impersonators. Outside the Chinese-speaking world, the Chinese music most often heard is a Teng melody.