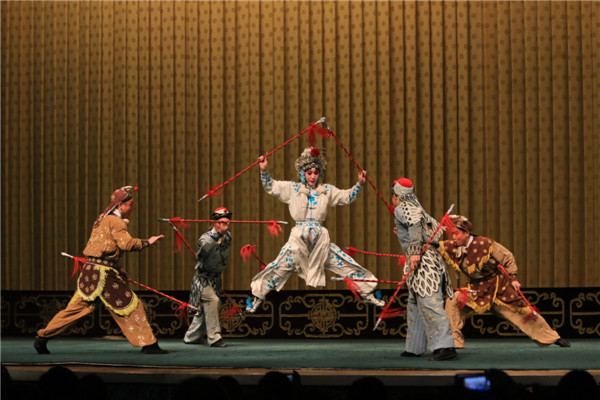 Performances of Peking Opera, which originated in the mid-19th century, are still popular among Chinese audiences. [Photo provided to China Daily]
Early last year, when Shan Jixiang, director of the Palace Museum, suggested establishing a center for researching Chinese traditional opera to Sun Ping and invited her to be in charge of the project, the veteran Peking Opera artist and scholar was very excited.
"The Palace Museum holds more than 30,000 artifacts, including scripts, books, costumes, musical instruments and paintings about traditional Chinese operas, which is a huge treasure," Sun says.
Then she had second thoughts: Sun was hesitant about taking the job because those cultural relics had never been reorganized and researched systematically.
Facing the challenge, Sun reached out to 97-year-old Guo Hancheng, an established opera artist and researcher of the Chinese National Academy of Arts.
"You have to take the job. There is no time to waste on doing research about those opera relics," Guo told Sun.
Despite her tight schedule-she teaches at both Renmin University of China and Beijing Foreign Studies University, and serves as a representative of the Chinese People's Political Consultative Conference-Sun took the position when the Imperial Court Opera Institute of the Palace Museum was jointly founded in Beijing last October by the museum, RUC and BFSU.
About a year later, the first forum about the imperial court opera was held at the Palace Museum in Beijing on Nov 11, when more than 30 experts from the Chinese mainland, Hong Kong, Taiwan and Macao participated.
Sun says she has started organizing the artifacts chronologically by taking photographs, collecting background information on each item and translating the materials in English.
"On one hand, we want to analyze those artifacts and let Chinese audiences know how the imperial families promoted Chinese operas. On the other hand, we want to introduce them to people worldwide," she says.
In 1790, four famous Anhui Opera troupes came to Beijing in celebration of the 80th birthday of Emperor Qianlong (1711-99) of the Qing Dynasty (1644-1911). The tour was a big hit, which enabled the troupes to stay.
In 1828, some famous Hubei Opera troupes came to Beijing. The artists of the Hubei and Anhui troupes often performed jointly on the stage and around 1840, Peking Opera formally took shape, growing even faster during the reign of the Empress Dowager Cixi (1835-1908), who was a Chinese opera lover.