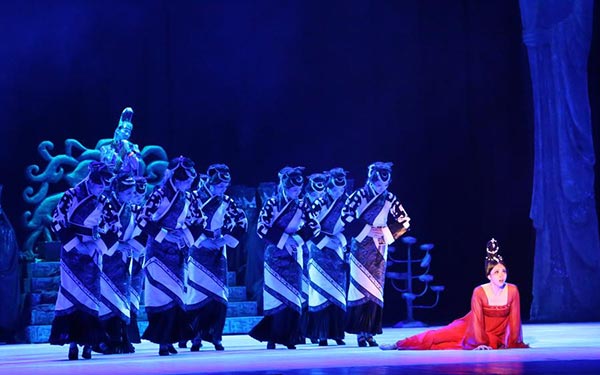 Chinese actors perform drama "Confucius" at Belgrade's Sava Center in Serbia, Nov 15, 2015. [Photo/Xinhua]
As soon as they returned to the stage after performing a one-and-half hour drama featuring ancient Chinese philosopher Confucius, the Chinese dancers received thunderous applause and cheers from the audience, and the ovation lasted almost 10 minutes.
The Sunday night performance at Belgrade's Sava Center by China's National Opera and Dance Drama Theater attracted some 3,000 audiences, with many saying they were deeply impressed by the show.
While some viewers said they most enjoyed the dancers' graceful movements and their costumes, others praised the stage setting and lighting effects as fantastic. And still some admitted they were attracted by the moral points in the story of Confucius.
"For me this was interesting, as it was a world class performance. The production was great, but I've never watched Chinese dance before. All in all, a great spectacle," a spectator named Gorica Mihajlovic said.
A 26-year-old student identified himself as Nemanja Mares said he mostly admired the skills of the Chinese dancers. "I am interested in dancing and watched the show with enthusiasm. I think the dance choreographies in this play were excellent. The dance group is phenomenal and it looks really good on stage," Mares explained.
Among the audience, many were first-time viewers of Chinese dance. A woman named Gordana Vucic was one of them. "This is completely different from the theater and ballet performances I am used to -- especially movements, music. The general impression for me is a surprise, as I did not have contact before with Chinese culture. I liked it very much," Vucic said.