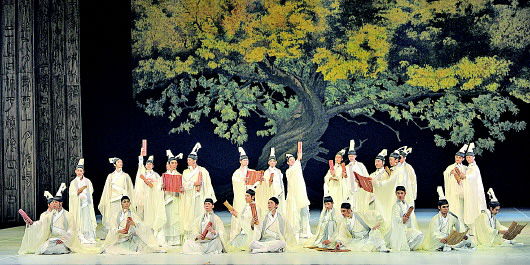 A scene from the dance drama Confucius [Photo/Qilu Evening News]
The enduring legacy of ancient Chinese philosopher Confucius (551-479 BC) will be told through dance in Belgrade as officials announced Tuesday here a dance drama of the same name will be staged next month.
A large-scale original dance drama by China National Opera & Dance Drama Theater, Confucius has seen soaring popularity since its Beijing debut in 2013. In November, the dance drama will tour to Greece and then Bulgaria before reaching Serbia.
Speaking at a press conference on the performance here Tuesday, Serbian Culture Minister Ivan Tasovac said the friendly relations between Serbia and China is expanding to the field of culture, resulting in increasing exchanges of performances and artists.
"Culture is the area where civilizations can intertwine in the most simple and natural way," Tasovac said.