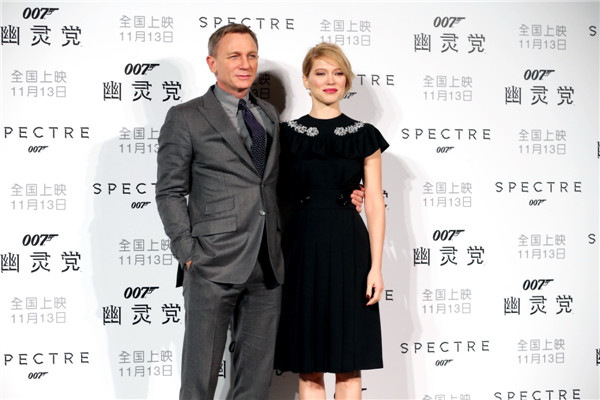 Daniel Craig and the latest Bond girl, Lea Seydoux, at a Beijing promotional event for the latest Bond film. [Photo by Jiang Dong/China Daily]
The latest James Bond film Spectre topped China's box office in the week ending Nov. 15, bringing in 307 million yuan (around $48 million) in just three days.
Ex-file 2, a domestic rom-com retained second place taking 109 million yuan in the week, doubling its total sales.
Last week's top spot Maze Runner: The Scorch Trials dropped to third place, earning 52 million yuan over the past seven days.
Newly-released domestic romantic movie Les Aventures d'Anthony came in fourth, pulling in 40 million yuan since it hit the screen on Nov 13.
Adventure film Everest stepped down from last week's fourth place, with 24 million yuan in the week to round out the top five.