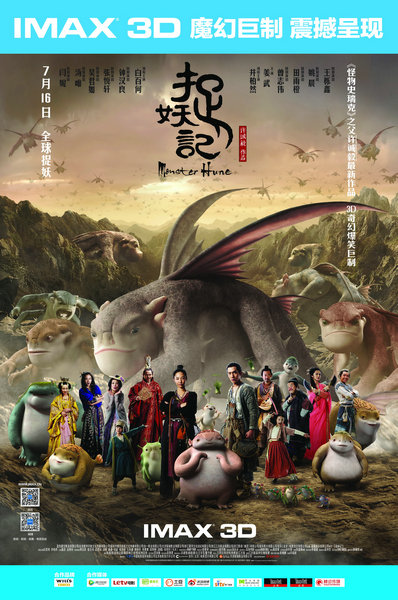 A poster of the fantasy movie Monster Hunt [File photo]
The Chinese film industry has experienced new highs this year, with several breakthrough domestic works proving hits across the country and breaking the box office records time after time. The rise of fantasy films is one of the newest features of the domestic film market.
Chinese filmmakers venture into fantasy
In the past years, fantasy films were less prevalent in China compared with martial arts films, love stories, young adult and anti-war films. However, this year saw a breakthrough for the genre as box office hits Monster Hunt, Chronicles of the Ghostly Tribe and Monkey King: Hero is Back hit the big screen.
Looking back at China's film history, fantasy films did not do particularly well, even though fantasy elements in traditional Chinese culture have been well received both at home and abroad. The main reason for this lackluster performance was a lack of strong concepts and structure in the films.
"A wide diversity of worldviews is the key to a good fantasy film," said Zhao Weifang, deputy head of the film and television department of the Chinese National Academy of Arts.
However, the situation is getting better in recent years as more and more Chinese filmmakers pay attention to the core values expressed in their works, instead of merely focusing on special effects and impressive set pieces.
For example, the 2012 movie Painted Skin: The Resurrection, which broke box office records on the Chinese mainland with 726 million RMB ($113.8 million), won audiences' hearts through its theme of self-sacrifice and love; while this year's record holder (with ticket sales of over $380 million) Monster Hunt shone with its humanist message of the equality of all creatures.