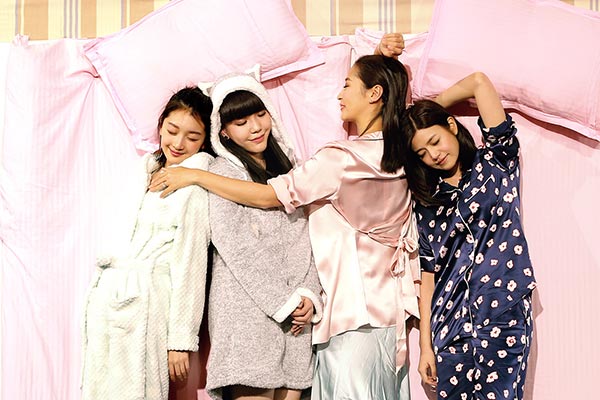 Actresses pose at pajama party to promote the upcoming movie, Run for Love. [Photo provided to China Daily]
Four actresses — Zhou Dongyu, Chen Yanxi, Liang Jing and Wu Mochou — lay on a bed dressed in pajamas to promote their latest movie, Run for Love, at a recent event in Beijing.
Actress Zhang Ziyi plays the lead in the film.
The movie, which focuses on love as a collective memory, opens in mainland theaters on Jan 15.
The film, co-directed by five art-house veterans, comprises five short romantic tales.
The five directors are Guan Hu (known for Taiwan Golden Horse-nominated Cow), Gao Qunshu (The Message), Zhang Yibai (Flee of Time), Teng Huatao (Love Is not Blind) and Zhang Meng (The Piano in a Factory).
The stories which involve lies, betrayals, loyalty and interdependence aim to examine how Chinese women see love in a modern society.
Xu Wen, the executive producer of the movie, said at the event: "Everyone has his or her unique take on love. To avoid just one personalized point of view, a team of directors will show audiences a varied understanding of love."
Related:
Festival gives fans taste of modern German history