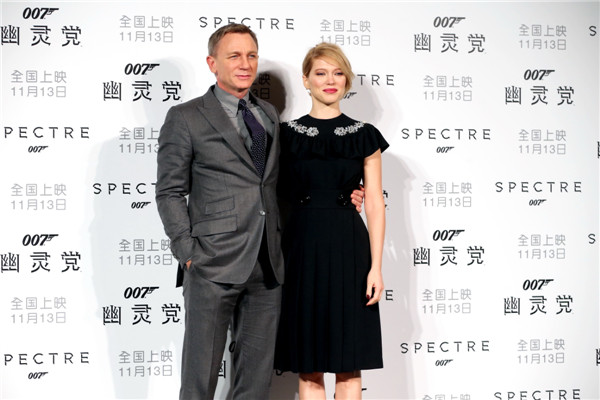 Daniel Craig and the latest Bond girl, Lea Seydoux, at a Beijing promotional event for the latest Bond film. [Photo by Jiang Dong/China Daily]
Chilly November has turned into a warm season for fans of big foreign films. Seven tentpoles-topping the imported release total for a single month this year-are competing fiercely for the Chinese mainland audience.
China allows 34 foreign big-budget titles annually to be released in mainland theaters, based on a 25-percent box-office share for foreign producers.
Except for July, which saw no such film imports, most months have two to four films, while only January had five, according to Mtime.com, one of the country's most popular movie sites.
Beginning with the survival movie Everest's debut on Nov 3, the first week of this month was fueled by the dystopian sci-fi title Maze Runner: The Scorch Trials (released on Nov 4) and The Peanuts Movie (Nov 6), the first 3-D feature in Snoopy's 65-year history.
While China's rapidly growing market frequently sees blockbusters' box office takings surpassing the milestone 500-million-yuan ($78 million) mark, the three Hollywood movies have made small ripples. So far, Everest has taken in 100 million yuan, while Maze Runner has raked in 200 million yuan and Peanuts has earned 29 million yuan.
Big haul stimulates the slump market since last Friday, when the James Bond series' 24th installment Spectre opened in mainland theaters.
Meanwhile, despite the lukewarm reception of Spectre on major Chinese review websites, such as a 6.2 rating out of 10 on Douban.com, the film's star power and heavy-action stunts have garnered a couple of records in the world's second-largest movie market.
Statistics show that Daniel Craig's fourth 007 movie has earned titles including highest-grossing Friday opening and the biggest opening weekend in the history of 2-D Hollywood movies released in China.
By Wednesday, box-office tracker Cbooo.cn showed that Spectre had grossed 382 million yuan, but the upcoming potential foreign blockbusters may hinder the new Bond's push for more records.
Only two days after Craig and the latest Bond girl, Lea Seydoux, headlined a Beijing promotion on Nov 10, the finale of The Hunger Games series brought all the lead stars-Jennifer Lawrence, Josh Hutcherson and Liam Hemsworth-to warm up a launch ceremony in the Chinese capital on Nov 12.