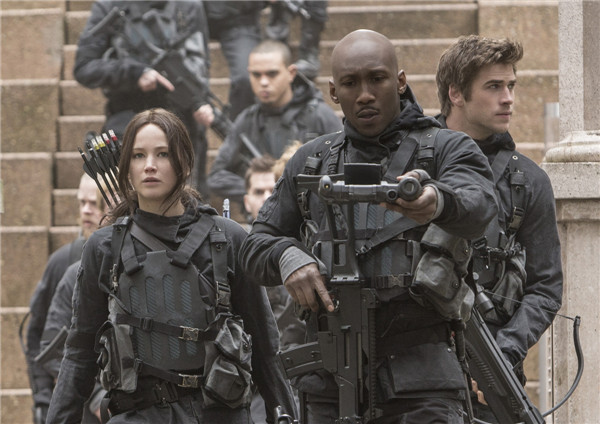 A scene from the finale of The Hunger Games trilogy featuring the lead star Jennifer Lawrence (left).[Photo provided to China Daily]
The forthcoming The Hunger Games: Mockingjay-Part 2 will be released on Nov 20, to compete with the same-day debut of the Sino-French action thriller The Transporter Refueled, or The Transporter 4, which is reportedly not part of the 34-title quota for imported films.
Next Wednesday, The Martian starring Matt Damon will hit mainland cinemas.
The domestic media said that the quotas for foreign films would be almost full by the end of the month. The last Hollywood movie of the year will be Paramount Pictures' The SpongeBob Movie: Sponge Out of Water, which will open on Dec 1.
That means some of the most anticipated, already-released Hollywood blockbusters, such as the biographical drama The Walk (86 percent rating on Rotten Tomatoes which premiered on Sept 26), seem to have little chance of being brought to China this year.
Some analyses in the domestic media say that the policy channels homegrown movies to the holiday seasons, which comprise the summer vacation, the National Day and the Spring Festival holidays.
But the recent National Day holiday week in October saw local viewers thirsty for Hollywood big-budget action films, say some industry watchers.
Others say it's just a matter of competition.
"China's movie market has been booming in the recent years. Around 300 movies wait for cinema screens every year, which means an average of almost one new film every day," says Yu Chao, vice-general manager of Capital Cinema, one of the country's oldest cinemas.
"So even for Chinese-language movies, the contention for a bite of the market is fierce," Yu tells China Daily over the telephone.
"The crowded month of November is a regular phenomenon since 2012, when China raised its annual quota from 20 to 34 for imported movies," Yu adds.
However, considering the box-office bonanza created by Monster Hunt, Jian Bing Man and The Monkey King: Hero Is Back in July, Yu says that crowded Novembers for Chinese movies will not significantly diminish the Hollywood's mainland revenues.
"But it's still a cruel market. If a movie can't earn a big weekend, it will see a sharp fall in screens in the following week," says Hao Wei, the secretary-general of the jury of Chinese Film Media Awards.