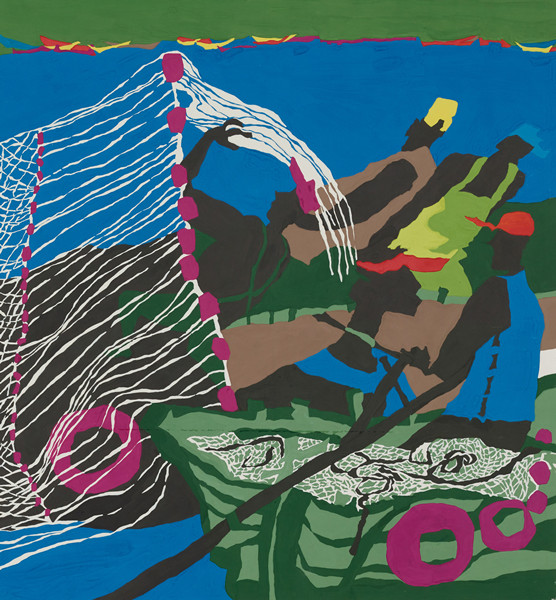 Raising the Net, by Bao Feng'er from Zhoushan, Zhejiang province. [Photo provided to China Daily]
Zhoushan, a city of many islands in East China's Zhejiang province, is well-known as a tourist destination and for its rich fishery resources. But not many people know that it is also home to amateur artists who live off both fishing and painting.
For this group, painting is not a profession like fishing but a natural instinct which meets an emotional need.
Twenty-eight years after their work was first shown at the National Art Museum of China, Zhoushan's fishmen are again displaying their creativity with an exhibition of 80 paintings at the same venue.
The works portray common scenes of workers, fishing villages and folk tales. But what makes their art stand out is "a strong smell of the sea".
The paintings give the impression of a vivid, intense palette. But a closer look reveals many features that violate painting norms, such as unsophisticated brushwork and the lack of proportion when painting humans, boats and fish.
Despite the lack of discipline, the painters offer a surrealist panorama of coastal life that is full of vigor, passion and fantasy.
The exaggerated treatment of the details and the primitive touches remind one of the imagery of Pablo Picasso and Joan Miro.
The Zhoushan painting style is seen as a distinctive genre of China's farmer's painting that took off in the 1950s, during the Great Leap period, to engage people in artistic pursuits.
According to Chi Shahong, deputy director of the Hangzhou-based Zhejiang Painting Academy, the style grew popular in Zhejiang's countryside in the 1960s where elderly women became the first painters to incorporate the styles of traditional handicraft, such as embroidery, in their strokes.
Zhoushan's fishermen and their wives first picked up painting brushes in 1984. Then, about 1,500 locals began painting under the guidance of local cultural administrators and painters, who hoped to enrich their lives onshore.
The group has grown over the past three decades. People have now become obsessed with wielding brushes, and their works have been exhibited at home and abroad.
Wang Yong, a researcher with the Chinese National Academy of Arts, says: "When compared with farmer's art in Shanghai's Jinshan district, Zhoushan's fishermen demonstrate a raw energy and a romantic feeling that is typical in personalities of seaside people."
He says their characters are fully reflected in the exaggerated enlargement of objects like a man's foot and a crab's head; and they draw a lot of marine life and dragons as symbolic images, an influence of the culture of fishing villages.
"Their paintings present a modern touch which has somewhat compensated for the overly loaded composition, a topic they need to tackle for future progress," says Wang.
The show will run through Nov 29.