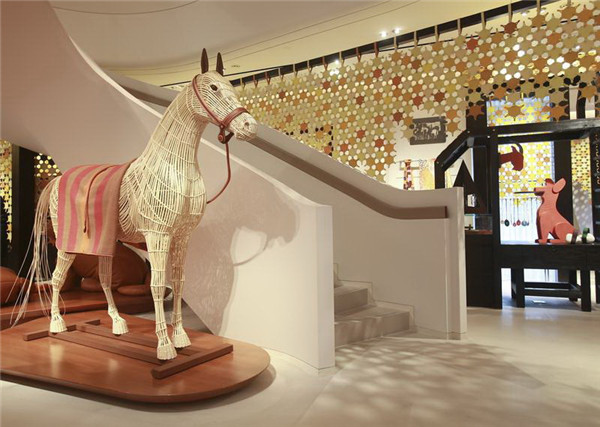 Pascale Mussard has run an in-house unit for reusing materials that were among waste at Hermes to create works including furniture, accessories and toys. [Photo provided to China Daily]
When growing up in the 1960s, Pascale Mussard spent time with her uncle Robert Dumas vacationing on the beaches of Normandy.
Dumas, who designed the famous Kelly bag for Hermes, would ask Mussard to pick pebbles from the shore with which he would make her pendants.
Since then, Mussard, now a sixth-generation member of the French luxury house Hermes, has been inspired to create unusual objects.
The workshops of her family company were her playground after school. She would help the craftsmen make things from unused leather, silk, buttons and zippers that she had saved.
After studying law and business management at the European Business School London, she joined Hermes as a fabric buyer in 1978. But she never thought her girlhood hobby would become a meaningful mission until one day when she heard a young member on her staff report on the company's efforts toward sustainable development.
"She (the staff member) asked what would we do if the materials we now use are all gone by 10 or 15 years?" Mussard tells China Daily.