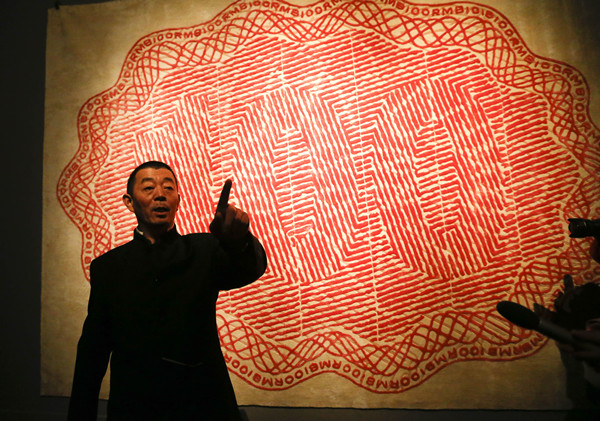 Chinese film director Gu Changwei is staging his solo show The Vision in Beijing. [Photo provided to China Daily]
Film director and photographer Gu Changwei's latest production isn't at the cinemas but rather at three exhibition halls of the National Art Museum of China.
Through his lens, viewers see no actors or actresses, but dozens of Chinese currency notes in works that challenge people's common sense of money.
Gu, 58, has used macrophotography to enlarge details and designs since 2014. And he has transformed images into different media, including giclee print photos, sculptures, installations and videos. Now, he is displaying 60 such works at The Vision, his solo contemporary art show at the Beijing-based museum.
People will be astonished by the details in notes such as patterns of prints and texture of the printing ink.
The exhibits offer a different perspective on the 100-yuan bill, which people usually don't notice when they keep the notes in their wallets or in their bank accounts.
Gu, who is best known for Peacock-a winner at the 2005 Berlin International Film Festival-says he has been thinking about turning currencies into artwork for long.
"The Chinese have gone through days of the rationing system, then the planned economy and the market economy of today. Money becomes a symbol of success and the standard to measure one's values," Gu says. "Love it or hate it, people trap themselves in a complicated and inexplicit relationship with money."
At the entrance of the exhibition stands a prism installation. Lights of soft pink and yellow-tones of the 100-yuan note-are projected on it, synchronizing with the opening and closing sounds of the camera shutter.
The central hall of the national museum displays a video with a nostalgic touch. It plays in slow motion the scenes from streets outside the Great Hall of the People that is the note's landmark structure.
In some of his photos, the enlarged patterns formed by lines and dots on notes might remind viewers of the texture of meat. The anti-counterfeit markings present the same refinement as that of antique jade wares.
The codes of notes become the center of his other photos, which Gu compares with the numbers of a Chinese resident identity card.
"Like a note being printed and circulated, people are born and embark upon different life paths. Everyone tries to be the master of his own fate but that ends up being a difficult task."
His photos also show a fascination with a tight bundle of notes.
"I not only see the varied colors and the structure similar to a building. Also the tightness makes me feel assured and safe.
"You can actually use such a bundle of money as a self-defense weapon if necessary."
Gu doesn't draw a clear conclusion on whether he created these pieces in favor or against the concept of wealth.
He only engages viewers in a thought-provoking journey, he says.
If you go
9 am-5 pm, through noon of Nov 29. National Art Museum of China, 1 Wusi Street, Dongcheng district, Beijing. 010-6400-1476.