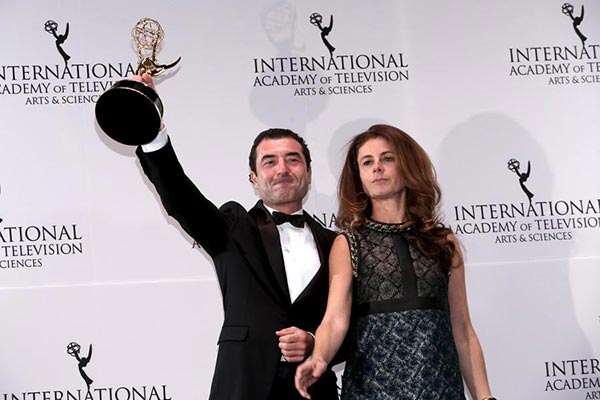 Producers Vassili Clert (left) and Anne Landois, of France pose with the International Emmy award in the "Drama Series" category for "Engrenages Saison 5" during the 43rd International Emmy Awards Gala in Manhattan, New York Nov 23, 2015. [Photo/Agencies]
France's hugely popular cops-and-lawyers series
Spirals
(aka
Engrenages
) won for Drama Series for its acclaimed 5th season, which returned last year after the show's traditional two-year break between seasons.
The Man Who Saved The Louvre, featuring a mixture of documentary footage and innovative animation, won for Arts Programming. The film tells the story of Jacques Jaujard, director of the Louvre during the German Occupation and the man credited with saving priceless works of art from Nazi looters.
Brazil's Imperio (Empire) won for Telenovela. The Globo production follows the adventures of a young man in 1989 Rio de Janero whose decision to run away with another man's wife goes wrong, leading him to into a life of crime and power with repercussions stretching to his children.
Doce de Mae (Sweet Mother) won for Comedy. The series follows Dona Picucha, an elderly woman whose stories entertain and impart life lessons, and also explores the lives of those around her. Picucha is played by Fernanda Montenegro, who to date is the only Brazilian actress to receive an Academy Award nomination for Best Actress.
Related:
New TV version of The Legend of the Condor Heroes