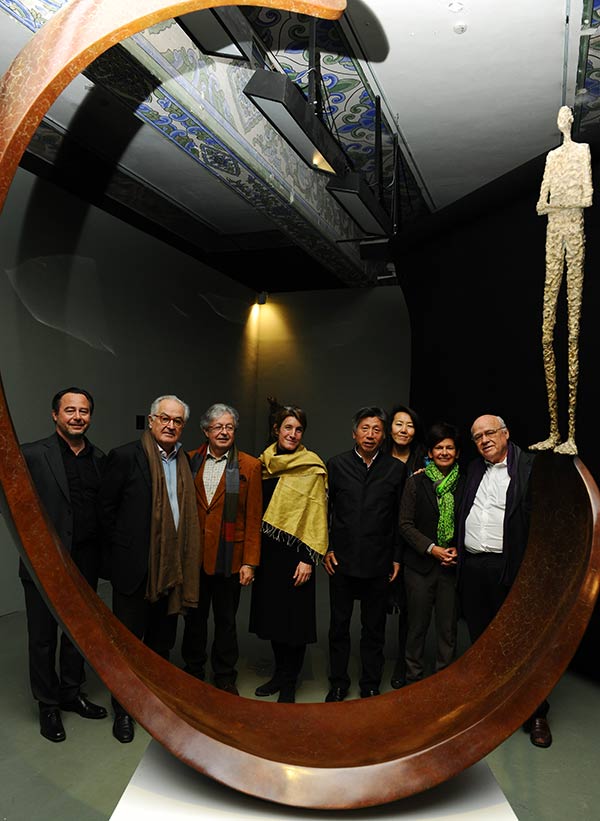 Jean-Jacques De Dardel (3rd L), Swiss Ambassador to China, Fan Di'an (4th R), president of Central Academy of Fine Arts, Philippe Staib (1st R), founder of Philippe Staib Gallery in Shanghai, Henry-Claude Cousseau (2nd L), president of association YISHU 8 and Christine Cayol (2nd R), founder of YISHU 8, attended the opening ceremony of VAL's exhibition at YISHU 8 in Beijing, Nov 21, 2015. [Photo provided to chinadaily.com.cn]
A French artist's sculptures at a Beijing art center inspire reflections on human relationships with nature and modern society.
Dozens of sculptures by Valérie Goutard are on display in an exhibition at Beijing YISHU 8, "Anatomy of a Creative Path".
The bronze sculptures, which portray slim figures standing, sitting, walking or flying, are reflections of modern people's lives and resonate with gallery visitors.
"When I speak about humans, I feel that whatever the difficulty in life, we can have hopes and expectations", said Goutard, who is known by her signature name, VAL.
Regarding the slim characters on the sculptures, she said that "I feel that human life is beautiful but also fragile. For me, my characters are quite slim or thin, to represent the idea of fragility."
She added that the slim characters are much lighter in weight and will better keep the whole sculpture balanced.
"I got three ideas when making a sculpture. It has to be 'balanced, humane, and lively'", VAL said.
Some of VAL's sculptures seem to portray humans in modern skyscrapers, some in the nature, some with their lovers and some with their families, while many are by themselves.
"Loneliness is a necessary moment to know who you are", VAL said. "People can be lonely, but not in desperate loneliness. It's active waiting, waiting with expectations or meditations."