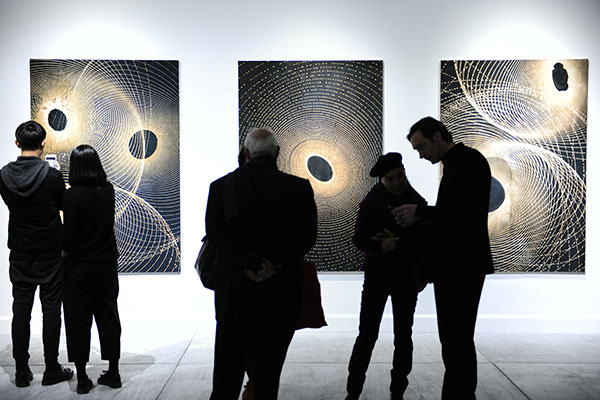 Visitors enjoy Simon Rulquin's art pieces at YISHU 8 in Beijing, Nov 21, 2015. [Photo provided to chinadaily.com.cn]
Inspired by astronomy, French artist Simon Rulquin takes his viewers on a shuttle through the universe through his art.
"The cosmos has always been part of my life", Simon Rulquin said, saying that he first became interested in science and astronomy in his childhood.
Simon has always been inspired by science, nature, astronomy and science fiction. "Every time when I started a program, I would try to make use of techniques from many fields, like chemistry, industry, handwork, or children's toys", Simon said.
During his residency at YISHU 8, an art studio that selects budding young artists from China and France each year, he got interested in a kind of ancient photography, which was invented by British scientist John Herschel. Then he began to learn the technique by himself and used the skill in his creations.
Simon was a winner of this year's "Prize YISHU 8·France", and the prize was three month's stay in Beijing. "I really like Beijing, I cycled in the hutongs. It's really a nice experience," Simon said.
During the first month of his stay here, he couldn't fall asleep as there was construction work near his room day and night. Then he always hung around outside at night or went to the old observatory nearby early in the morning to study the armillary sphere. There, he said that he felt a kind of peace, which was surprising for the bustling city he had imagined Beijing to be.
If you go:
From Through Dec 20
YISHU 8, former Sino-French University, No 20 (jia), Dong Huangchenggen Bei Jie, Dongcheng district, Beijing
+86 (10) 6581 9058