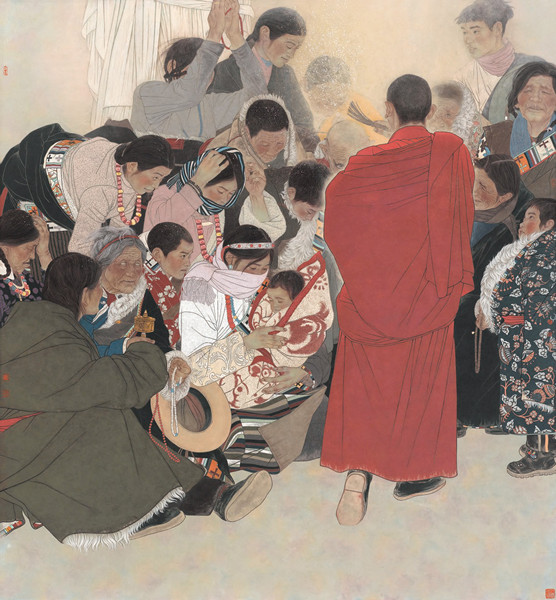 The Ritual by Sun Zhensheng is one of the gongbi paintings on display at the show Subtlety Transcend. [Photo provided to China Daily]
The highly detailed gongbi technique, with a history of 2,000 years, is still held dear by Chinese painters today.
Subtlety Transcend, an ongoing exhibition at Beijing's Today Art Museum, gathers the latest gongbi paintings of 10 Chinese artists born in the 1970s.
They have not only captured day-to-day objects and happenings in their works, but have also given profound meaning to ordinary life. At the same time, they continue to invoke the spirit of gongbi by sticking to meticulous brushstrokes, as well as communicating implicit feelings.
The displayed works reveal the evolution of gongbi froma traditional painting subject to an artistic style with a modern temperament, especially over the past two decades, says Yu Yang, the exhibition's curator and associate professor with Beijing's Central Academy of Fine Arts.
"Gongbi painters among the post-1970 generation are influenced by the idea of 'creating based on a close observation of life', an artistic approach that emerged in the early 1990s," he says. "They largely source inspiration from the life of metropolises and growth of young urbanities."
Beijing-based painter Zhou Xue is adept at portraying teenage women and little girls, a common motif featured in ancient gongbi paintings of court ladies. While Zhou put these modern beauties in a dreamlike setting, one may be reminded of heroines in Japanese director Hayao Miyazaki's animated productions.
"The real world is full of fears and sorrow. Glamour and fans can hardly prevent people from becoming indifferent and lonely," Zhou says.
Her works depart from such realities in search of inner happiness.
"Childhood is when one feels much warmer than other periods of life. Hence, I hope my paintings evoke people's earliest memories of being loved."
Fellow painter Yuan Lingling turns her eyes to young migrants from rural areas. Her realistic depiction reveals their dilemma-such people move to cities looking for higher income and acceptance but miss their tranquil countryside life.
Yu says painters usually extend their creative search to "faraway places" such as plateaus, grasslands and that small towns and villages keep fascinating gongbi artists.
Tibetans living in western China are popular subjects in the works of Yu Li, who has traveled extensively through the grassland in southern Gansu province, and Sun Zhensheng, who skipped the rice paper (xuanzhi), which is popular in gongbi, but paints with mineral color on paper made from bast fiber. Both have achieved an abundant effect on paper providing viewers mutually different perspectives on Tibetan spiritualism. "I believe in the complexities of life. I also like the ambiguous feel of painting," says Yang Bin, whose heavily-colored works on show give a half realistic and half abstract touch.
He is against the "popular practice of repeating or misappropriating symbolic images" in painting.
"If one always paints under the umbrella of traditional teachings or some post-modern schools, the core value of painting is no longer there."
If you go
10 am-6 pm, through Nov 30. Today ArtMuseum, 32 Baiziwan Road, Chaoyang district, Beijing. 010-5876-0600.