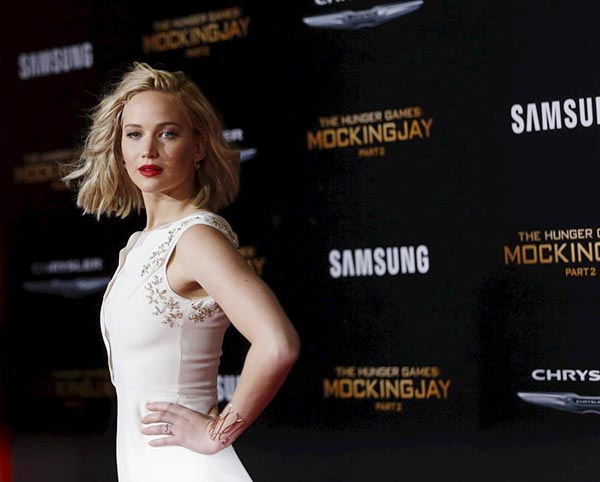 Cast member Jennifer Lawrence poses at the premiere of "The Hunger Games: Mockingjay - Part 2" in Los Angeles, California Nov 16, 2015. [Photo/Agencies]
Lionsgate's "The Hunger Games: Mockingjay - P
art
2" debuted to top the North American box office this weekend with an $101 million.
"The Hunger Games: Mockingjay - Part 2" is the final chapter of the blockbuster franchise starring Jennifer Lawrence is the fifth largest opening of 2015, but the lowest opening weekend of the entire series.
It failed to equal the blockbuster power of its predecessor in last year, "The Hunger Games: Mockingjay - Part 1," which opened at $121.9 million, according to Rentrak.
"The Hunger Games: Mockingjay - Part 2" received an "A-" rating from first-night moviegoers on CinemaScore, which was the same CinemaScore rating that "Part 1" received last year. The critics gave it a good 70 percent possitive rate on Rotten Tomatoes.
Leading the box office for the previous two weeks, "Spectre" fell to the second place this weekend with an estimated $14.6 million. The latest James Bond movie was down a sharp 57 percent from last weekend.
"Spectre" has grossed $153.7 million within 17 days since the release. That places the film just 9 percent ahead of the $141.4 million 17-day gross of 2008's "Quantum of Solace" and 30.5 percent behind the $221.14 million dollars 17-day take of 2012's "Skyfall."
"The Peanuts Movie" came in third with $12.8 million in three-day weekend. The 3D computer animated film from Fox and Blue Sky dropped 47 percent in ticket sales from last weekend. It has taken in $98.9 million within 17 days.
Two debuts made the top five list: "The Night Before," at $10.1 million and "Secret In Their Eyes" at $6.6 million.
Among the 10 most-popular movies in North America include "Love The Coopers" ($3.9 million), "The Martian" ($3.7 million), "Spotlight" ($3.6 million), "The 33" ($2.2 million) and "Bridge Of Spies" ($1.9 million).
Related:
Movie 'The Martian' to hit Chinese cinemas on Nov 25