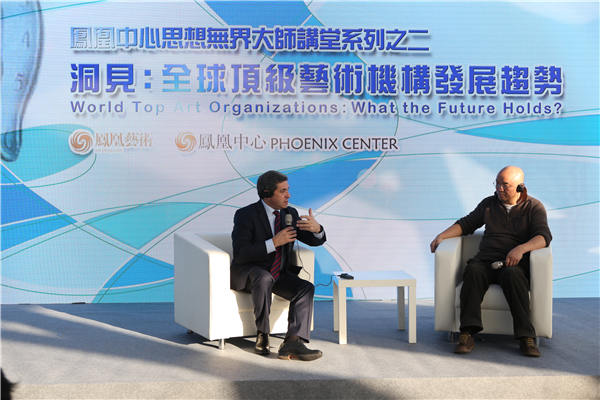 Juan M. Sevillano (L), managing director of the Figueres-based Dali foundation, and artist Leng Bingchuan talk during a dialogue at the Phoenix Center, Beijing, Dec 4, 2015. [Photo provided to chinadaily.com.cn]
The Dali foundation in Spain is poised to further tap into the Chinese art market, and will authorize Dali's works in the near future, Juan M. Sevillano, managing director of the Figueres-based Dali foundation said.
Juan M. Sevillano made the remark during a dialogue in Beijing on Friday. He believes that the Chinese art market is vibrant, but that art prices are divorced from art values, as the public is paying too much attention to the price of art and have lost their way.
"We will be doing things in the coming years in different fields, for example, we will publish things, cooperate with universities, academic institutions, do more exhibitions, and work with communication organizations," Sevillano said.
A Dali work exhibition is now ongoing in Shanghai, which will last until February 15 next year. The exhibition, a collaboration between K11 Art Foundation and Gala-Salvador Dali Foundation is the first step for the Dali foundation's "regular and sustainable shows in China in the coming years".
"We want to have regular exhibitions in China. We need to be prepared. Media-Dali is being held to attract people who don't go to museums," says Sevillano.
Noted Chinese contemporary artist Leng Bingchuan, who has been living in Spain for more than a decade, also attended the dialogue. He shared his experience of pursuing art abroad, the shock when he saw Vincent van Gogh's paintings in the Netherland's Van Gogh Museum for the first time. Leng believes that the best art works should correspond with and be in harmony with humans.
The Gala-Salvador Dali Foundation, founded by Dali himself in 1983, is dedicated to protect, spread and promote the painters' art works.