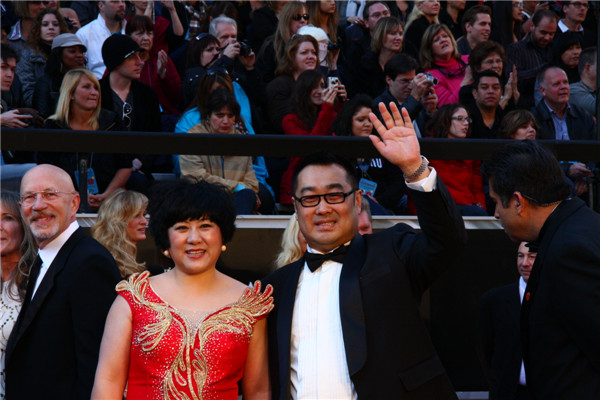 Chinese TV producer Shen Jian (right) is a frequent guest at influential film events, such as the Academy Awards ceremony. [Photo provided to China Daily]
Ang Lee turned down a number of interview requests from world media when his Crouching Tiger, Hidden Dragon became the first Chinese title to win the Oscar for best foreign movie in 2000. But at the time, Shen Jian, a lesser-known TV producer, couldn't just take "no" for an answer, so he sent his staff members to the director's alma mater, New York University.
There they recorded video greetings from Lee's former teachers and sent him the tapes.
The strategy worked-Lee granted Shen an interview. And, with it, the World Film Report, his weekly program on CCTV-6, began to flourish.
Shen, who until 2000 had no TV production experience, put in all his money to launch the program that year, but he needed to have some "significant" to get CCTV-6, a leading movie channel in China, to buy it.
"I told my people that you had no choice but to convince Lee. It was just like a battle for honor. We needed to win," recalls Shen, 50, who still is the chief producer of World Film Report.
Now 15 years later, the show that specializes in foreign hits, has interviewed more than 3,000 moviemakers from nearly 80 countries and reaches an audience of up to 1 billion across China, the world's second-largest movie market.
Shen's contribution in promoting cinema and cultural exchanges won him Insignia of the French Chevalier in the Order of Arts and Letters on Wednesday. The honor, presented by the French government, is the highest recognition in the field of culture. In the past, most of the Chinese who won it were celebrities, such as actor Ge You and actress Zhou Xun.
Maurice Gourdault-Montagne, the French ambassador to China, lauded Shen and his team for having established a platform to connect Chinese audiences to world moviemakers.
"I was surprised to hear the good news, as I'm not a star. It's a great pride to be recognized for my efforts in promoting cultural exchanges and diversity," Shen says.
Shen, whose love for cinema goes back to his childhood, says theaters acted as "shelter to flee from the real world's cruelties" his family faced during the "cultural revolution" (1966-76). He was born in East China's Nanjing city.
He still remembers the olden-day theaters and their small sales windows.
"Sometimes the crowds behind would push and my hand would hurt," he says of the time he stood in lines to buy tickets at such counters. "But I was still excited."
That may explain why Shen, who worked as a government policy consultant before 2000, decided to launch a TV show on movies. His analysis on China's digital reforms, based on a four-month study in the Silicon Valley, was adopted by the 10th Five Year Plan (2001-2005), the country's economic and social development goals.
Shen says his stay in the United States gave him opportunities to make friends with some influential Hollywood moviemakers like veteran producer Mike Medavoy. He returned to China and established Shinework Media that started to produce World Film Report, which features face-to-face interviews with foreign moviemakers in their respective countries.