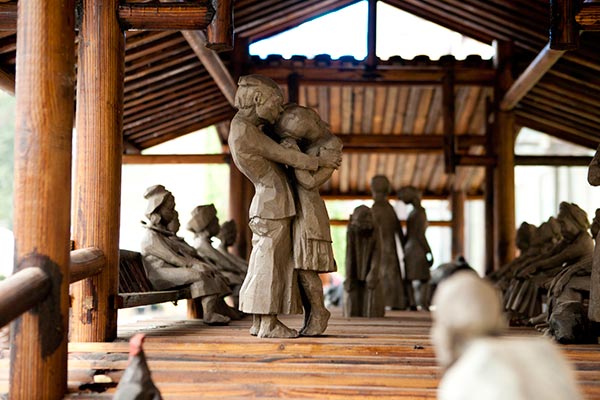 Sculptor Tian Shixin's wood installation is on display for a year at Beijing's 798 art zone. [Photo provided to chinadaily.com.cn]
Chinese sculptor Tian Shixin's wood installation,
Flower Bridge — Life an Exciting Play
, was recently unveiled at Locomotive Square inside Beijing's 798 art zone, for a yearlong display.
The work, 5.6 meters long and 2 meters high, captures a moment when people and cattle are resting on a bridge.
The installation is inspired by "flower bridges" typically seen in areas inhabited by the Dong and Miao ethnic groups in Guizhou province. The wooden bridges typically have pavilions and long, roofed corridors, and the supporting pillars have carvings of birds and flowers.
The bridges not only provide shelter on rainy days but also are places where local people socialize.
A Beijing native, Tian, 74, lived in Guizhou for more than two decades.
He has injected the work with a profound understanding of Chinese wood crafting and nostalgia for the ethnic culture of Guizhou.