BEIJING
Farm-to-table
The Beijing Farmers' Market is hosting a farm-to-table discussion series to explore how restaurant menus can be made more sustainable. On Dec 16, Laura Shunk discusses with the chefs leading the farm-to-table movement abroad, and details their contributions to their communities. On Dec 23, Caroline shares her research at Dragon Well Manor Restaurant in Hangzhou, Zhejiang province, where all ingredients used are purchased directly from local smallholder farmers.
7-9 pm Dec 16 and 23, with time for discussion.
Beijing Farmers' Market Community Center/Market, N33 Phoenix Arcade at Sanyuanqiao subway exit B. 010-5742-8210.
Danish cooperation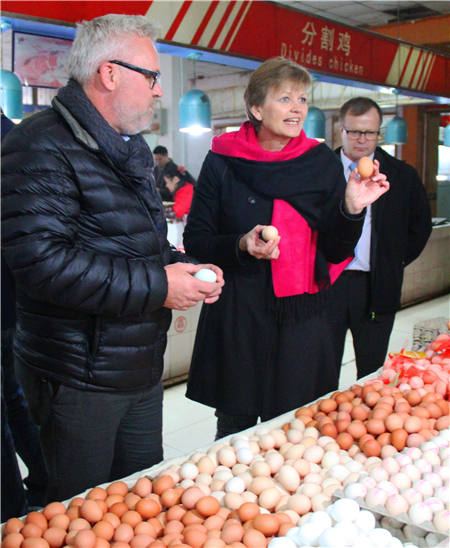 [Photo provided to China Daily]
Danish Environment and Food Minister Eva Kjer Hansen (pictured below) concluded a four-day visit to Shanghai and Beijing last month by witnessing the signing of a groundwater partnership agreement partnership with State-owned Qingyuan Water Group based in Jinan, Shandong province, and participating in a series of food-safety events in the capital. "Denmark is known for our high level food safety. Therefore we would like to join hands with China in addressing challenges in food safety," she says after visiting a community market that features organic produce.
Eating for charity
Last month's Chi Fan for Charity, a series of restaurant dinners on the same night to benefit Educating Girls of Rural China and Bethel China, raised more than 550,000 yuan ($860,00) for the two organizations. Participants in Beijing, where the event was founded in 2009, included 64 restaurants and more than 675 table guests. Gala dinners were also held last month in Shanghai and Hong Kong.
German fun and food
Schindler's Dockingstation will hold its annual Kohl and Pinkel Party on Jan 16, starting with a warmup followed by a handcart hike including games, beer and schnapps. About six groups with six to 10 participants, and each group will have to tow a small cart loaded with booze, beer, soft drinks and other equipment for playing games during the hike (throwing dice, egg-walking, teabag-throwing, etc). The hike will be about 60 to 90 minutes, starting from the restaurant and going along the riverside of Liangmahe and back.
3:30 pm, Jan 16. 10 Sanlitun Beixiaojie, Chaoyang district. 298 yuan per person (148 yuan per child) including dinner and refreshments during the hike. 010-6463-1108.
TIANJIN
Christmas fair
The German Chamber of Commerce in Tianjin will host a Christmas market with Christmas music, culinary delicacies and a lucky draw at the Astor Hotel Tianjin on Sunday. The admission price includes free flows of mulled wine and other beverages as well as specialties like roast turkey, baked apple pie, Christmas stollen and German bratwurst. Kids can enjoy the traditional lebkuchen (gingerbread cakes) and non-alcoholic punch. The price for German Chamber members is 150 yuan; non-members are 250 yuan; kids under 12 are free.
No 33 Tai Er Zhuan Road, Heping district, Tianjin. advance registration required; contact Zhang Xiaolei at 022-8787-9249.