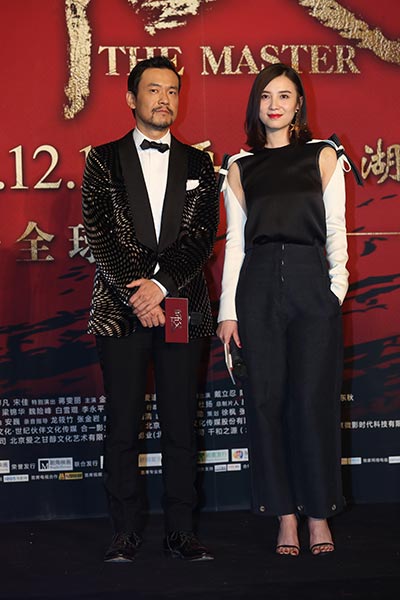 Actor Liao Fan and actress Song Jia. [Photo provided to China Daily]
The Chinese movie
The Master
will be released on Dec 10, which is earlier than expected, in order to avoid box-office "rush hour". Some 40 domestic titles are lined up for release this month.
Most of the big-budget movies will hit mainland cinemas in the second half of December as the New Year celebrations draw close.
Starring actor Liao Fan and actress Song Jia, the martial arts feature will have the weekend to warm up the box office. Usually a movie's first weekend performance signals its screen occupancy in the following weeks.
Based on the namesake novel, by movie director-scriptwriter Xu Haofeng, The Master centers on a martial arts teacher from South China's Guangdong province who moves to the northern city of Tianjin in search of fame. Tianjin was a kung fu hub from the 1910s to two decades after. The book won the best novella award in 2012 from People's Literature, an influential Chinese journal.
The movie also won awards at Taiwan's recent Golden Horse Film Festival.
Related:
China box office to rule by 2018, Imax CEO says