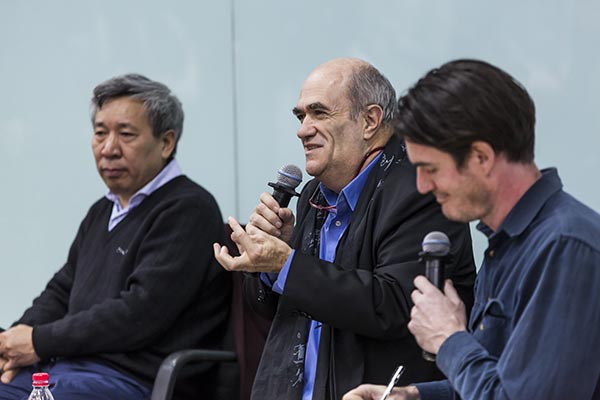 Irish writer Colm Toibin (center) has a conversation with Yan Lianke (left) about many subjects, including "grief in literature", at Renmin University of China in Beijing. [Photo by Zhan Min/China Daily]
The Chinese version of
Nora Webster and The Testament of Mary
by Irish writer Colm Toibin has been recently published in China.
On the last stop of his visit to China in mid-December, Toibin had a conversation with Chinese writer Yan Lianke about many subjects, including "grief in literature", at Renmin University in Beijing.
The influence of death on writing:
Toibin: I lost my father at 12. In the following several years, my family stopped talking about it. They did everything else, and continued life without talking about it anymore. I wrote the novel Nora Webster based on my memory at 12. I tried to imagine what my mother thought, how she felt and what she said.
Yan: I think the fine sentiments in Toibin's novel might be due to the young age when he lost his father. I lost my father at 25. What a 25-year-old man feels about death is very different from a 12-year-old boy. My father's life vanished suddenly when I held him in my arms. One cannot walk out of such a shadow. Now, in my dreams, I often dream of my father lying in my arms, asking me: "Lianke, am I really hopeless?" These words accompany me and my writing. That's why there is so much about death in my novels.
Fine sentiments:
Yan: I have two misunderstandings. When I was 14 or 15 years old, I was very lucky to read A Dream of Red Mansions. I always thought writer Cao Xueqin was a woman. Until today, I still cannot believe how a male writer can create so many beautiful women with such great minds with such beautiful language. When I read Toibin's short story collection Mothers and Sons three years ago, I had the same feeling. The author's portrait on the book must be a mistake. How can the writer be a man! Toibin must be a woman. Otherwise, he couldn't have expressed such fine feelings in Mothers and Sons. The language is so beautiful.
Toibin: My mother has two younger sisters and my father has a sister who didn't get married. They live very close. My two nearest siblings are girls. So I was brought up in a house of women, and they talked, and I was the boy always listening and finding out their secrets ... So my entire childhood was spent listening to women talking. When men go back home, they sit in the chair and stare at TV watching football and do nothing else. Women always have stories to tell.
An individual and history:
Yan: I found in Toibin's novels very clear memory of personal experience, which has disappeared for me and also other Chinese writers of one generation. Chinese literature used to have a tradition of strong lyricism, but it has disappeared from our generation. For example, Li Qingzhao, who lived in the Song Dynasty (960-1279), lost her husband in her 40s. After that, her writing changed greatly and she wrote poems like Shengshengman (Slow Slow Song) to express her personal feelings after the loss, but when we analyze it, we tend to connect it with the destiny of the country. It's the same with Cao Xueqin's A Dream of Red Mansions. He wrote the novel based on his personal experience with a big family, but we all connect it with the declining Qing Dynasty (1644-1911). Why are all these personal things linked to a complicated social background? Why should we connect all sadness with the problems of the country, the social reality. For me, after meeting Toibin, I will try to write more about personal things and less about social problems in my novels.
Toibin: I think there's a history of the novelists going public. If you want to know what Victorian England was like, maybe Charles Dickens will tell you better than a history book. George Elliot tells you more about the Industrial Revolution, a time of change and uncertainty in England, through images not only of individuals, but of society. Those novels, the novelists became important because there was so much uncertainty, silence and change going on. The novels managed to capture that in a way that is very different from what journalists, a historian, or even a sociologist could do. The novel can tell the story of a society in flux in a way that's probably unique and valuable.
Related:
Top 10 most well-read cities in China