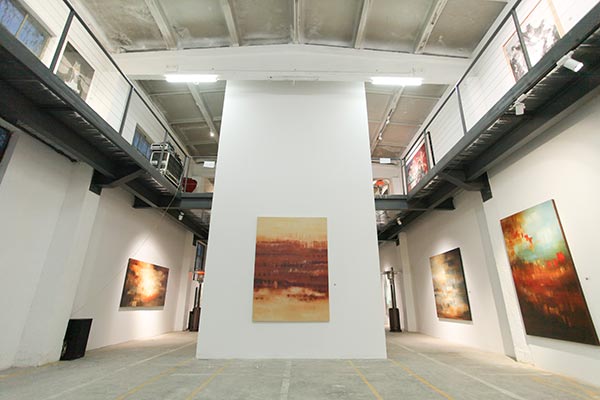 Being 3 Gallery, which has relocated to a former factory in the capital, is celebrating its 10th anniversary with shows by young yet promising artists from home and abroad. Paintings by Shivani Dugar are now on display at the gallery. [Photo provided to China Daily]
For Shivani Dugar and other start-up painters like her in New York, it's a big deal to have a solo exhibition in Beijing, capital of the world's second-largest economy and an important art market.
The 35-year-old Indian mom with two children presents 25 paintings, mostly in bright, rich colors infusing "abstract landscapes" in a mosaic style, in a solo show titled Four Seasons in Beijing's Being 3 Gallery, which is running through Jan 12.
"My paintings abound with vestiges of memory and experience, and my search for the unseen is implanted in every layer," says Dugar.
The painter explains that she "reaches deep within" to explore landscapes in time, aiming to create inviting spaces with an exuberance of layered colors, contrasting textures, and gesture mark-making, coupled with a dynamic play on light.
After following her father's commonsense advice to study finance at Georgetown University, Washington DC, Dugar left an investment bank, where she worked for two years, to pursue her lifelong dream of painting.
She earned a master's degree in fine art with a concentration on printmaking from Pratt Institute in the Brooklyn borough of New York in 2004.