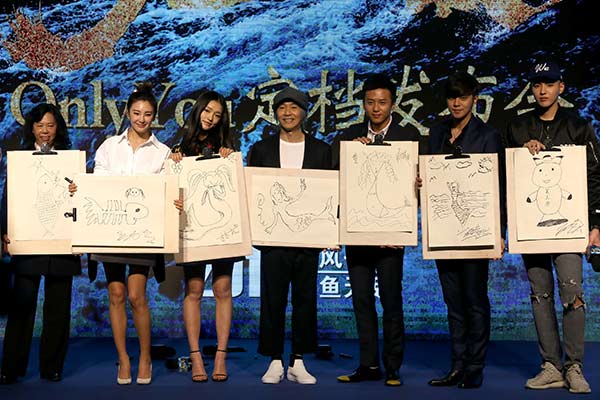 Stephen Chow (center) and the cast of Only You attend a media event in Beijing. [Photo by Jiang Dong / China Daily]
Hong Kong actor-turned-director Stephen Chow is returning to the spotlight after three years out of public view.
His latest comedy, Only You (previously known as Mermaid), will hit mainland theaters on Feb 8, the first day of the Chinese Lunar New Year.
Chow is reluctant to reveal the storyline but says the film is about feeling "solitude" because of a lack of rivalry.
A three-minute trailer shows an unattractive mermaid with glasses getting out of a bathtub. It seems like typical fodder from Hong Kong's "king of comedy".
Chow's earlier titles, such as the crime-thriller Fight Back to School franchise, won him mainland fans and made him an icon in Hong Kong.
The 53-year-old's 2013 fantasy hit Journey to the West was his highest-grossing film in the mainland market at 1.2 billion yuan ($185 million).
Only You's stellar cast includes Deng Chao, Wu Yifan, award-winning actress Zhang Yuqi and Taiwan pop singer-actor Show Lo.