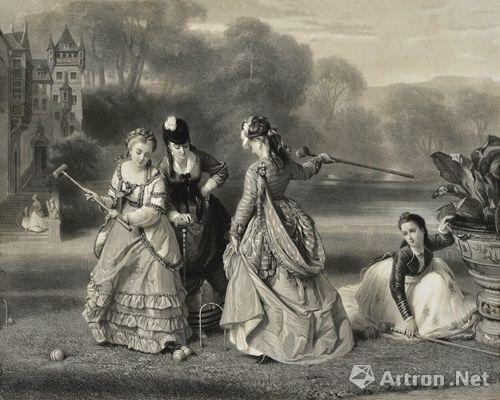 Gate Ball Party, a 19th century copperplate etching, from Holly's Auctions' autumn sale. [Photo/Artron.net]
More Chinese collectors are turning to Western art in recent years, a trend which may change the whole landscape of the global art market.
According to Nanfang Daily, several local auction houses in Guangdong are introducing Western artwork at their sales. For example, Holly's Auctions has launched a special section of works on paper from European art masters during its upcoming autumn sale, the first of its kind nationwide. The section will present water soluble block prints, copperplate etchings and sketches from European art masters for auction.
Canton Treasure Auction has put forward a special section of "oil painting, sculpture and prints" during its contemporary art auction. According to the head of its oil painting department, oil painting collecting is a trend we will see in the future, as "Chinese painting is our country's tradition, while oil painting is international. As an auction house, we are guiding and fostering the market by introducing more oil paintings."
According to Nanfang Daily, Wang Yefu, the executive director of Holly's Auctions, said that now China is integrating with the world in all respects, and the art world is no exception. "Internationalization can widen art dealer's choices. For example, if he bought a Rodin sculpture, later he can trade it on the international auction market in New York, France or London."
Besides, Chinese buyers have been acquiring more Western pieces, such as the purchase by Dalian Wanda Group Chairman Wang Jianlin of Picasso's Claude and Paloma in 2013. Wang Zhongjun, a movie mogul, bought a $62 million Van Gogh painting from Sotheby's last year.
Chinese collector Liu Yiqian bought Amedeo Modigliani's 1917 signature portrait of a nude woman for $170.4 million at Christie's in New York earlier this year, setting a record for the Italian artist's works.
Chinese buyers' splurges on Western art pieces during recent years have shocked art circles, and marks a seismic change in the world art market.
According to an expert from Christie's, a new generation of collectors is rising, many of whom have experience studying overseas, and have been exposed to Western culture and art for a quite a long time. These new collectors do not restrict themselves to Asian art and in fact have a preference for Western art.
Some experts say that from the perspective of investment, domestic art prices are increasing dramatically in the recent decade, and risks are rising too. While, contemporary Western art prices are increasing steadily, and they still have a relatively high potential for going up.
Wang Yefu also said, "Artworks from Chinese artists who are just a little famous are already getting very high, yet some influential Western artists' pieces are relatively low."
Some also say that owing to the rising number of counterfeits in the domestic market, buying art pieces from big international auction houses is less risky.
"Still, buying art from foreign countries requires a lot of courage," Cheng Shoukang, an expert from Sotheby's said.