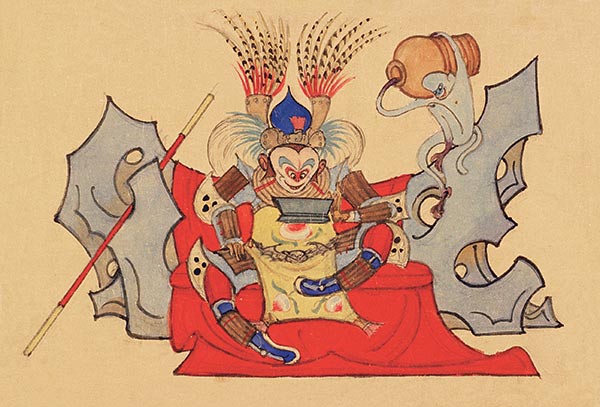 Zhang Guangyu was creative while painting with watercolors, and making illustrations and cartoons, as well as designing animation characters. [Photo provided to China Daily]
He was one of the founders of China's first cartoon society. He pioneered China's commercial art, authoring the country's first book on modern industrial art in 1932. He published a dozen art journals which served as the launch pads for several artists who later became masters. His last major work was designing the characters and settings for the timeless 1960 classic animation film, Da Nao Tian Gong or Havoc in Heaven.
Yet the name of Zhang Guangyu (1900-65) is unknown to many who have seen his works and have also been influenced by them.
And it has taken five decades since his death for the first comprehensive exhibition of Zhang's works to be held in China. On Nov 20, the show opened in Shanghai where the long-forgotten figure of modern Chinese art spent most of his life, developing his distinctive style. It runs through Dec 20.
Master of Chinese Modernism Art, the exhibition at the Long Museum, celebrates Zhang's creativity and versatility in painting, illustration, design, publishing and animation.
A display of more than 300 of his works show how he helped Chinese art make the transition from the classical age to a modern world in the first half of the 20th century.