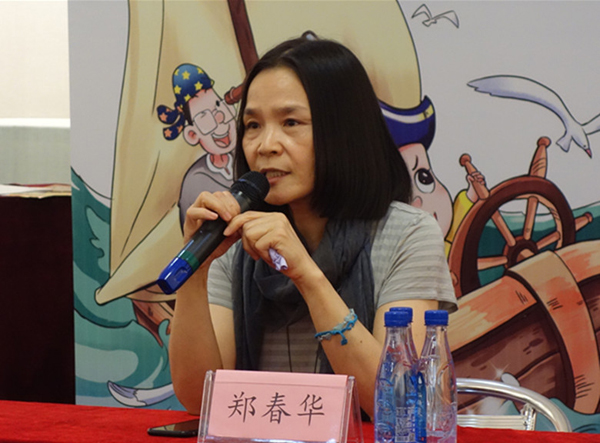 Zheng Chunhua introduces her new book Little Biscuit and Apron Mom at the 11th Cross-Straits Book Fair in Xiamen. [Photo by Cheng Yuezhu/ Provided to China Daily]
The well-known children's character "Big Head Son" will have a sister in the new book Little Biscuit and Apron Mom, which is coming out next month.
The author of the book Big Head Son and Small Head Dad Zheng Chunhua has announced the news at the 11th Cross-Straits Book Fair in Xiamen. The new book series has 10 volumes, featuring heartwarming stories about daughter Little Biscuit and her childlike mom Apron, and is a companion piece to Big Head.
The book Big Head was a besteller among children's literature, and the adapted animation with the same name, released in 1995, was also a big hit. Almost every child at the time watched the program and could sing the theme song from the animation.
Big Head Son and Small Head Dad was inspired by the author's own family. "My son really has a big head," Zheng Chunhua said. "When my son was little, I never bought pullover T-shirts or hats for him, as they always didn't fit him."
Zheng has two children, her son, the inspiration for "Big Head Son", who is almost 30 years old now, and her little daughter, who is an adolescent. "My daughter has been jealous of her brother for many years, as I have written many stories about him, but none about her yet," Zheng said, and this is the major reason leading to her creation of the new book.
Zheng keeps the habit of writing diaries. Before writing Little Biscuit and Apron Mom, she reviewed her diaries, and felt that even some trivial things in daily life moved her to tears.
Zheng said once her daughter wore her high-heels, took a bag and said she was going to work as she had grown up. After a while, when she came back, Zheng opened her bag and was surprised to find some sanitary towels in the bag. Asked why, her daughter said, "I have grown up and I have to go to work with this." This touched Zheng a lot and she realized that children are watching their parents all the time and they are eager to grow up, no matter whether their parents know it or not.