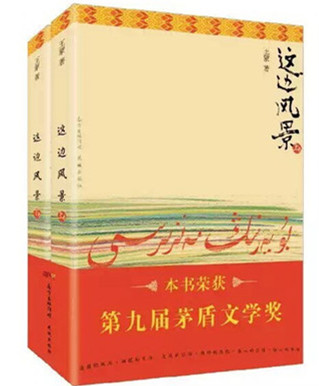 Writer Wang Meng's View of This Side, finished in 1978, wins this year's Mao Dun Literature Prize. [Photo provided to China Daily]
In 1963, writer Wang Meng, then 29, left Beijing for the Xinjiang Uygur autonomous region, in order to escape the political storm in the capital.
At that time, just before the "cultural revolution" (1966-76), he was already being criticized as a rightist due to his writings.
"It was the right choice. I benefited tremendously from my 16-year stay in the Ili Kazak autonomous prefecture. I am grateful to Xinjiang," he says.
Last month, his novel View of This Side, which is set in Xinjiang, won the Mao Dun Literature Prize, China's top award for literature. The award is given every four years.
The book was written during his stay there but was published in 2013.
The story of how the book came about begins in 1974. Then, Wang, who had not done any writing for 11 years, came across a fairy tale by Hans Christian Andersen about how a person lives life fruitlessly, and he became very anxious.
Encouraged by his wife, Cui Ruifang, who had also traveled to Ili with him, Wang then decided to try and write a novel regardless of the surroundings he was in.
"I told myself that I can't wait anymore. I must write, even if there is no other reader but myself," he says.
The novel, set in Xinjiang, starts with a bizarre theft of grain.
The plot moves on as the mysterious theft is solved layer by layer, offering a unique view of the culture and customs of western China.
It provides an overall picture of modern life in the region and an authentic history of local ethnic groups.
When Wang finished the 705-page novel in 1978, the "cultural revolution" had ended and China was starting to reform and open up.
So Wang felt that the background of the novel was outdated and even a careful two-month revision did not help improve matters.
He felt the novel bore too many marks of the period and so decided to put it aside and move on to other writing.
His stay in Xinjiang also ended then and he returned to Beijing.
In March 2012, Wang's wife Cui died and his children found the manuscript when cleaning the house.