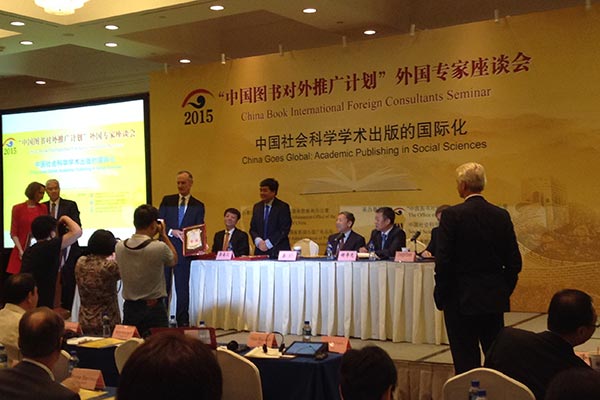 CBI Foreign Consultants Seminar on Aug 24. [Photo by Mei Jia/ China Daily]
International publishers and scholars who gathered in
Beijing
for two key publishing forums, right before the ongoing Beijing International Book Fair (Aug 26-30), agreed that China can make bigger contributions to international science.
"With China's rapid rise, there is more widespread interest and more eager ears to hear the China story," said Lance L.P. Gore, senior researcher from the National University of Singapore, during the 2015 CBI Foreign Consultants Seminar on Monday.
Gore said China now has the attention of the world, which provides "a window of opportunity for both Chinese scholars and Western publishers not to be missed."
Christoph Chesher, Sales Director of the Taylor & Francis Group that has had an office in Beijing for 10 years, said the publisher is broadening and deepening its connection with Chinese academics, and has published works by Chinese scholars who hold leading roles internationally.
Li Yang, think tank and former deputy-director of the Chinese Academy of Social Sciences, said he witnessed the changes in the recent decades of Chinese constructing their own international academic discourses.
"We have experienced the stages of wondering for the way out because of a lack of awareness, and also a lack of funds," Li said.
"Now with our development, we have both, what we need is the focused scientific spirit and devotion," he added.
The think tank suggested that Chinese scholars can contribute their original findings to the world in areas including the country's industrialization, demographic dividend, government's role in developing the economy, and urbanization.
Renmin University Professor of Economics He Yaomin, also a senior publisher, shared the view that not all borrowed theories from the West can fully explain China's complicated reality, so he called for "research with Chinese values".
"And the values must find something in common with globally shared values, not to separate China from the rest of the world," He said.