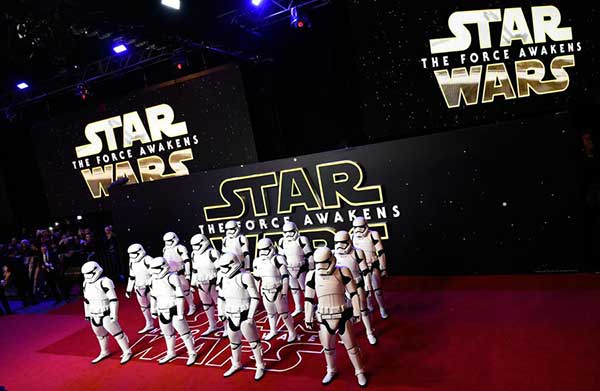 Characters in costume pose for photographers at the European Premiere of "Star Wars, The Force Awakens" in Leicester Square, London.[Photo/Agencies]
"Star Wars: The Force Awakens" shattered box office records with an estimated $517 million in worldwide ticket sales through Sunday, a staggering debut that re-established the celebrated space saga as a global phenomenon under Walt Disney Co.
The first "Star Wars" film in a decade recorded the biggest domestic opening in Hollywood's history, collecting $238 million over the weekend in the United States and Canada. It also set records in Britain, Australia, Russia and elsewhere as fans embraced a new chapter in the galactic battle between good and evil.
Thousands joined a mock lightsaber battle in Los Angeles, where an Australian couple married in line for the film. President Obama ended a news conference on Friday saying he needed to head to a White House screening of the movie, and presidential candidate Hillary Clinton closed Saturday's Democratic debate saying, "May the Force be with you."
"I don't think ever in the history of movies has there been more hype leading up to release of a film," said Jeff Bock, senior box office analyst at Exhibitor Relations Co. "This is a huge, huge win."
The film's financial and critical success mark a victory for Disney Chief Executive Bob Iger's strategy of acquiring proven brands, including Pixar Animation and comic book powerhouse Marvel, to fuel Disney's entertainment empire.
Disney purchased "Star Wars" producer Lucasfilm for $4 billion in 2012 as part of his bet on big-budget films.