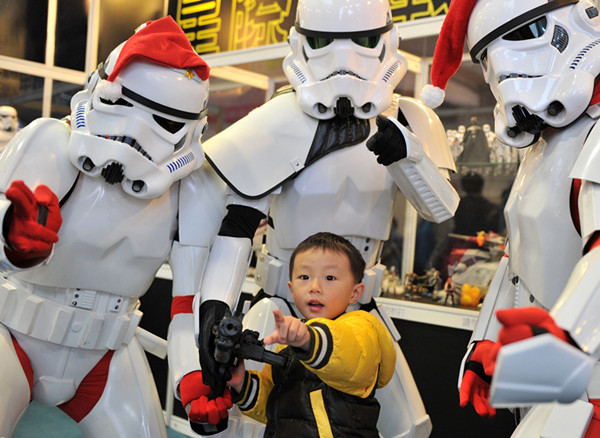 Fans dressed as Stormtroopers pose with a child at a toy exhibition in Taipei on Thursday. Star Wars has built a devoted global fan base that spans the generations.[Photo by Sam Yeh/AFP]
It may be one of the most hyped films of all time, but Star Wars: The Force Awakens has opened to ecstatic reviews from both fans and critics.
Fans who had waited a decade for the next episode of the space saga emerged from the first screenings in France and Scandinavia on Wednesday clearly moved, with some even in tears.
"I was happy to see Luke Skywalker again," said Suzanne Sundsvall, 55, as she left a cinema in the Swedish capital Stockholm.
"I've lived with the character Han Solo since the first movie, when I was 17. I even have a Han Solo car license plate."
Others who had flown halfway around the world to see the film in Paris two days ahead of its release in the United States said it had been worth "every cent" of the cost.
A smiling Tim Mersch, 44, from Las Vegas, who spent "several thousand dollars" to see the film early, said, "I just want to see the next one now."
The movie is due to open on the Chinese mainland on Jan 9.
After months of teaser trailers that raised more questions than answers, there were fears that the seventh film in the series might disappoint.
But French fan Sebastien Guillemot, 40, who brought his 11-year-old son Lucas to a packed first screening in Paris, said, "It's working its magic again."
More than half a million people pre-booked tickets in France for director J.J. Abrams' two-and-a-half-hour epic, which goes back to the story's roots.
The Force Awakens picks up the intergalactic story of good versus evil 30 years on from The Return of the Jedi, the finale of the original trilogy.
The trio of heroes who appeared in the first of the blockbusters in 1977 are all back and played by the actors that Star Wars first made famous.