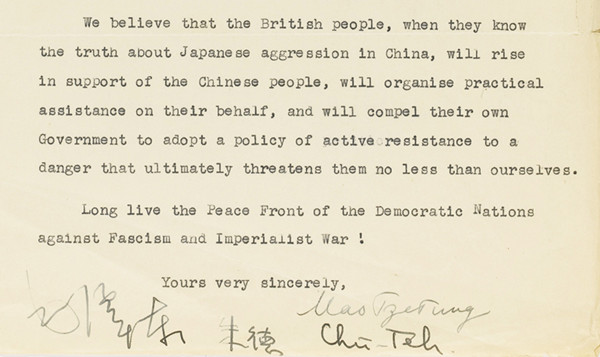 Mao's letter bearing his and Zhu De's signatures. [Photo/China Daily]
A rare letter from Chinese leader Mao Zedong written to the leader of Britain's Labour Party appealing for help in fighting the Japanese invaders in 1937 sold at auction for 605,000 pounds, nearly six times more than its estimated price, London-based auctioneers Sotheby's said.
The letter, signed by Mao and Zhu De, one of the founders of the People's Liberation Army, was acquired by an anonymous Chinese buyer.
It was addressed to Major Clement Atlee, leader of Britain's opposition Labour Party at the time, asking for "the support of your Party to any measures of practical assistance to China that may be organized in Great Britain.
"We believe that the British people, when they know the truth about Japanese aggression in China, will rise in support of the Chinese people, will organize practical assistance on their behalf, and will compel their own government to adopt a policy of active resistance to a danger that ultimately threatens them no less than ourselves."
Mao's original Chinese text was translated by James Bertram, a British journalist who had access to Mao in his base in Yan'an, northwest China.
Mao's Chinese signature in Chinese characters appears clearly at the bottom of the letter, and Gabriel Heaton, a Sotheby's specialist in books and manuscripts, said the letter was "an extraordinary early instance of Mao engaging in international diplomacy, and is an exceptionally rare example of Mao's signature."
Betram passed on the letter to Atlee, urging him to keep it "if only as a curiosity."
No record of Atlee's response to the letter has ever been published.
Attlee became UK Prime Minister in 1945 and under his leadership, Britain became the first major western power to recognise the People's Republic of China on January, 1950;Atlee also became the first major western leader to meet Mao in a three-hour discussion over tea in 1954.
Historians also believe Attlee played a major role in persuading US President Harry Truman not to declare all-out war on China during the Korean conflict.
The letter was put up for auction by Atlee's family.
To contact the reporter: chris@mail.chinadailyuk.com