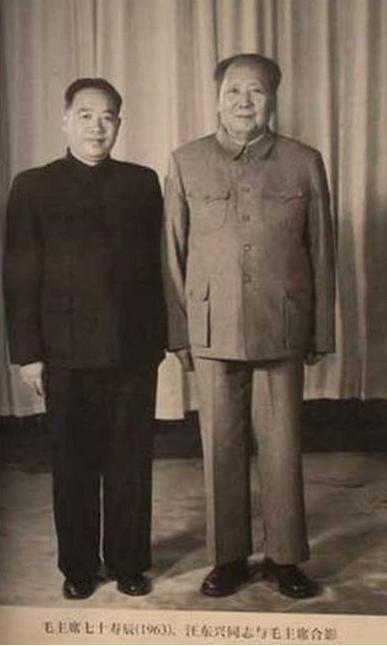 A file photo of Chairman Mao Zedong, right, and his top guard Wang Dongxing, dated in 1963. [Photo provided]
A former senior official of the Communist Party of China, Wang Dongxing, died at age 100 early on Friday, said the General Office of the Party's Central Committee.
Wang, who was in charge of Chairman Mao Zedong's security for years, died at 5:28 am in Beijing.
He was praised as "an excellent CPC member, time-tested loyal Communist fighter and proletarian revolutionist", the statement from the General Office said.
Since 1968, Wang had served as director of the central office of the CPC Central Committee and the Party chief of the Central Security Bureau, and chief of the General Staff's Security Bureau.
Wang was vice-chairman of the Communist Party of China from 1977 to 1980.
Born in January 1916 in Yiyang County, Jiangxi province, Wang joined the Communist Party of China in 1932 at the age of 12. He shouldered the task to protect Mao in 1947.
In the following years, Wang served as commander of Unit 8341, a special force to safeguard the national leaders.
Wang was in charge of Mao's security during several trips, including his visit to the Soviet Union in December 1949.
It has been widely quoted in Chinese media that Mao commented on Wang, saying that "he has been following me all the time. I don't trust other people. I am used to having him by my side".
Wang played a crucial role in the purge of the "Gang of Four", including Mao's last wife Jiang Qing, in October 1976, a month after Mao died.
Wang was promoted to vice-chairman of the Party the following year and resigned in 1980. In 1982, he was elected as an alternate member of the CPC Central Committee at the 12th CPC National Congress. He worked as a member of the Central Advisory Commission in the late 1980s.
yangwanli@chinadaily.com.cn