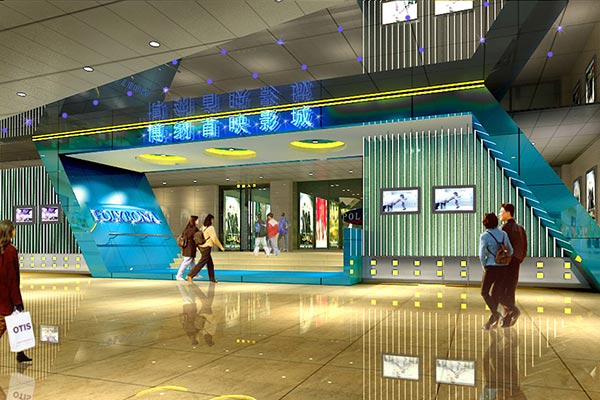 A cinema operated by Bona Film Group Ltd in Beijing.[Provided to chinadaily.com.cn]
Internet giants Alibaba Group Holding Ltd and Tencent Holdings Ltd are joining the group bidding to take Chinese film studio and distributor Bona Film Group Ltd private after it delists from the Nasdaq stock exchange.
Alibaba Pictures Group Ltd, the film affiliate of Alibaba Group, said on Tuesday that it would join other entities to buy out Bona, which received a privatization proposal in June. Bona, backed by billionaire Guo Guangchang, is a leading producer and distributor of films in China.
The proposed deal values Bona at about $1 billion. The Hong Kong-listed Alibaba Pictures said it would spend about $86 million for a 10 percent stake in Bona, while Tencent has declined requests to share terms. The deal is expected to close during the second quarter of next year.
In June, a group including a vehicle named Uranus Connection and Chinese investor Xie Zhanshan offered to buy Bona's American depositary receipts at $13.70 each.
After a string of investment into film studios and ticketing software and other film-related businesses, analysts said the Bona deal marked the cash-rich Internet giant's renewed push into China's booming film and television industry.
Alibaba Pictures said that Bona is one of the leading players in China's film making industry and it has achieved great performance not only in China but also in the global market.
"By teaming up with Bona, we hope to build up an ecosystem that can cover the entire industrial chain of movie and television sector," the company said in a statement.
Huang Guofeng, an analyst with the Beijing-based Internet consultancy Analysys International, said that Alibaba Pictures, which was founded in 2014, has not had any experience of making movies until now.
"By investing in or forming alliances with leading film studios, Alibaba Pictures is looking to improve its filmmaking skills and boost its status in the country's booming movie industry in a relatively short time," he said.
More importantly, Alibaba Pictures can integrate its existing business of online ticketing and crowdfunding movies with the traditional movie making industry, he said.
Yu Dong, chief executive officer of Bona, admitted that Internet technology is going to change the movie industry. "China's film studios will be working for the country's Internet trio BAT (stands for Baidu, Alibaba and Tencent)," he said earlier.
Chen Shaofeng, vice-dean of the Institute for Cultural Industries at Peking University, said: "Last year, China's box office receipts surged 34 percent to $4.8 billion, while in the United States and Canada, it shrank by 5 percent to $10.4 billion. After delisting from the Nasdaq, I think Bona wants to be relisted in China, where valuations are much higher. It will be a good investment for both Internet companies," he said.