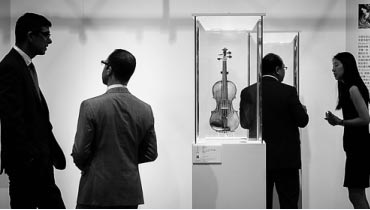 A preview of Christie's auction house's autumn sales was held in Hong Kong in November. [Photo/Agencies]
Hong Kong auction houses are looking for novel ways to keep their sales buoyant in the face of an economic slowdown-from creating boozy bidding parties to selling items from outer space.
The recent sales season in the city saw the familiar glittering parade of art, jewelry and rare wines. But although billionaire Asian collectors have grabbed headlines with recent mega buys, takings were down at major Hong Kong auction houses.
Now auctioneers are trying to develop fresh strategies to woo increasingly picky collectors.
The new Hong Kong auction house Dragon 8 says it is trying to break the traditional mold of stuffy auctions by creating invite-only sales fueled by good wine and food.
"I'm up there putting on a show for these people," says founder Gil Lempert-Schwarz. "I serve them wine, we eat food. There's a setup limit: around 45 seats around tables."
Most buyers are from Hong Kong and the Chinese mainland. They bid for high-end lots of diamonds, fine art, wines and whiskeys.
Dealing in rare coins and paper money may be at the less sparkly end of the auction spectrum-but leading US-based numismatic auction house Stack's Bowers added an interstellar element to its sale in Hong Kong this month.
It featured a coin and stamps taken onboard China's unmanned Shenzhou 1 spacecraft, sent into orbit in 1999.
Stack's Bowers says there is a growing desire among Chinese collectors to repatriate heritage items.
"We're finding Chinese and Asian coins from all over the United States and the vast majority are being sold to Chinese and Asian buyers," says president Brian Kendrella.
"Our collectors want to repatriate these collectibles that have left the country, now that specifically the Chinese mainland is in a place where wealth is growing quite rapidly."
November saw Chinese tycoon Liu Yiqian buy Modigliani's Nu Couche in New York for $170.4 million.
Yet auction houses feel the overall mood is cautious, says Nicolas Chow, Sotheby's vice-chairman for Asia.
Attracting new collectors is key, says Rebecca Wei, president of Christie's Asia.
Educating potential collectors and providing more accessible information to create "a less intimidating buying process" is part of the strategy, says Wei.
An uncertain global economy and questions over buyers' willingness to spend make the auction house "cautiously optimistic" about the future, she adds.
Related:
Rare letter from Chairman Mao sells for over 600,000 pounds