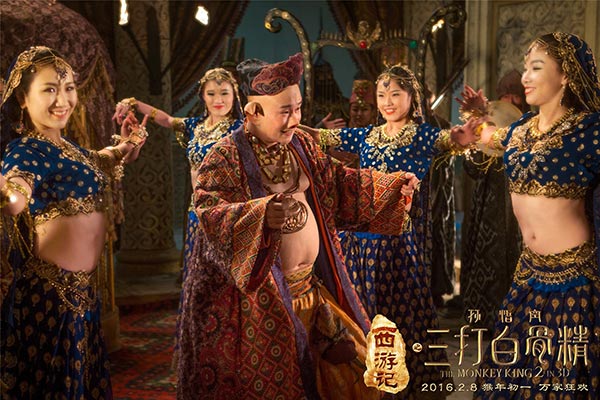 The action-fantasy film, The Monkey King 2, will be among the next year's blockbusters. Inspired by the novel Journey to the West, the movie fictionalizes Xuan Zang's expedition. [Photo provided to China Daily]
For movie enthusiasts curious about next year's blockbusters, China's Film Co Ltd, the country's largest producer and distributor, recently offered an answer: Up to 33 new titles will be released or shot in the Year of Monkey.
The list released on Tuesday shows the industry giant has four tentpole-scale movies, a majority of the six known so far, to compete on Feb 8, the first day of China's Lunar New Year.
Usually the Spring Festival holiday marks one of the busiest periods for film releases.
Last year, the record receipts earned during the festival helped China to overtake the United States for the first time in the monthly box-office stakes in February.
Among the four blockbusters, history buffs can expect to see the biopic Xuan Zang, based on the Buddhist monk's pilgrimage to India around 1,300 years ago.
Another blockbuster with connections to the monk is The Monkey King 2, an action-fantasy film inspired by the Ming Dynasty (1368-1644) novel Journey to the West, which fictionalizes Xuan Zang's expedition.
Hong Kong veteran filmmaker Stephen Chow's fantasy comedy, Only You, which marks the return of the "king of comedy" after a three-year gap, is also highly rated.
A popular view online says Chinese mainland fans "owe cinema tickets to Chow", as most of his early classics-which influenced generations of Chinese-could be seen only on videotapes in late 1990s and early 2000s.
The sequel of Ang Lee's Oscar-winning Crouching Tiger, Hidden Dragon will no doubt be a must-see for martial arts fans.
Despite the disappointment that the director was replaced by Yuen Woo-ping and only Chinese-Malaysian actress Michelle Yeoh reprises her role, the big-budget epic has drawn a lot of attention.