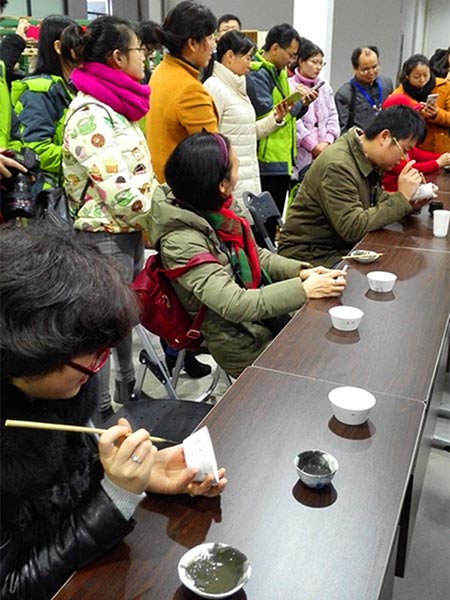 Journalists on a media tour, themed on China's Belt and Road Initiative and Chinese high-speed rail era, experience porcelain making at Mingfangyuan porcelain industrial park in Jingdezhen of East China's Jiangxi province, Dec 22, 2015. [Photo by Liu Xuanyi/chinadaily.com.cn]
Journalists were invited on a media tour to witness and participate in making porcelain at an antique facility in the Mingfangyuan porcelain industrial park in Jingdezhen, East China's Jiangxi province on Tuesday.
The newly constructed park costs an estimated 4 billion yuan ($617 million) and covers an area of over 1,000 mu (67 hectares). The park's main focuses are the development and enrichment of porcelain and integrating porcelain production, as well as tourism.
In Jingdezhen, porcelain-making dates back more than 1,000 years and was the starting point of the ancient Silk Road and Maritime Silk Road.
However, mass production of porcelain has witnessed a decline of the industry in modern times, but with government support and innovation of traditional ceramics technology, Jingdezhen seeks to revitalize its ancient tradition and reclaim its global fame.
Zhang Guizhi, deputy director of Mangfanyuan Park told journalists that the park is now a gathering place for famous porcelain workshops and a base for handmade ceramics. She added that it's attracted a large number of artists and scholars to exchange techniques in porcelain making.