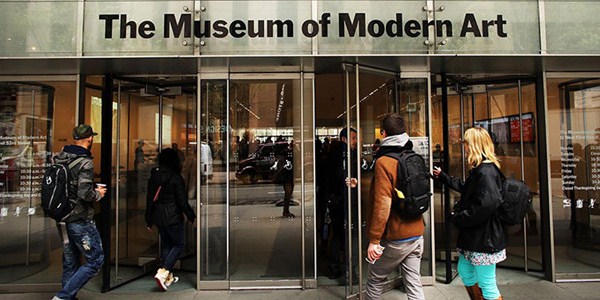 The Museum of Modern Art in Midtown Manhattan in New York City is often cited as the most influential museum of modern art in the world. [File photo]
The Chinese art market has enjoyed more attention than ever as Chinese collector Liu Yiqian forked over $170 million for a Modigliani nude painting this November, but few know that such record high sales account for less than 1/200 of the total sale of Chinese art and antiques when the domestic art market was at its prime.
According to a report issued by China's Ministry of Culture, transactions in the Chinese art market topped all countries in 2011 with a total volume of $35 billion, making up 30 percent of the global art market revenue.
This achievement, though stunning, was unsurprising in the eyes of some art collection professionals. "As the cultural expression of a country that plays a central role in the world today, both economically and politically, Chinese art has naturally come to the attention of art collectors," said Jay Levenson, Director of the International Program at The Museum of Modern Art.
Despite such interest, China's auction market suffered a sharp downturn in 2012 amid a global slump in demand for Chinese art, fueled partly by concern about the many fakes that are offered for sale. This year, the sale of Chinese art and antiques has rebounded modestly, and expert confidence in the Chinese art market reported by ArtTactic is up by 21 percent, only 9 percent below the peak in May 2011.
Wu Hong, director of the Center for the Art of East Asia at the University of Chicago, said that despite turbulence in the art market, the Chinese market is beginning to take things in its own stride. "Future Chinese art historians may view the year 2000 as a turning point, the previous 40 years were politically oriented while the years after were basically market oriented," Wu said.
Earlier this month, Levenson, together with other experts in the field of art management, lectured on the topic to their Chinese counterparts and art management enthusiasts in Beijing. Levenson shared with us his take on contemporary Chinese art and what it means to the world. He also gave suggestions on how contemporary Chinese art can be seen, heard and felt by a global audience. Below are excerpts from the interview.