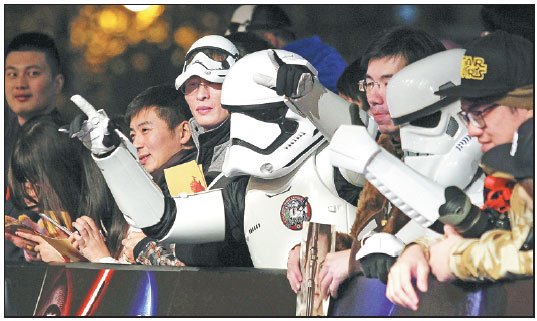 Film fans dressed as Stormtroopers gesture at the red carpet event for the premiere of Star Wars: The Force Awakens on Sunday in Shanghai. [Photo/Agencies]
Box office record breaker
Star Wars: The Force Awakens
is slated to open in China on Jan 9 and hopes to bring a newer generation of moviegoers to the cinemas in the world second-largest film market.
Speaking at a news conference on Monday in Shanghai, J J Abrams, director of the film, said the new Star Wars saga has much in common with Shanghai, especially as both are a perfect blend of the old and new.
"Shanghai is an incredible city and someone can come here for the first time and see this amazing place and appreciate for what it is," said Abrams. "There is also a lot of history about the city that describes its transformation over the years."
Walt Disney Co said on Sunday that its blockbuster broke the $1 billion mark around the world faster than any other film in history. The science fiction adventure movie reached the milestone 12 days after its global release.
The seventh film in the Star Wars series has till date made $544.5 million in the United States. After only 10 days, it is the fifth-biggest film in US box office history.
The Force Awakens has also won accolades with fans and critics. It holds a 94 percent score on review site RottenTomatoes.com and has even garnered some Oscar buzz.
Kathleen Kennedy, producer of the movie, said they hope that a large number of Chinese viewers will see and enjoy the film, a new generation of stories, and see the earlier versions also.
Hong Kong action star Donnie Yen and mainland actor Jiang Wen will join the cast for the upcoming Star Wars Anthology: Rogue One.
Kennedy said Chinese literature is filled with several mythological characters and stories and at some point in time they are exploring the possibility of integrating those into Star Wars universe.
Disney has been pulling out the stops to raise awareness for the film, from creating a local digital hub for the franchise, to planting 500 Stormtroopers on the Great Wall, and inviting popular singer Lu Han as its China ambassador. With the movie-going demographic in China becoming increasingly younger, the former member of boy band EXO has got a social outreach that includes nearly 12 million followers on micro-blogging site Weibo.
Huang Qunfei, executive vice-president of Huaxia Film Distribution Co Ltd, one of the two companies in China authorized to distribute imported movies, said the box office receipts for the new Star Wars movie will be good. However, it might not be able to break records as it has done in other markets given that it is screening in a very crowded and competitive holiday season.
Though there is a tendency for younger moviegoers to prefer local comedy and action films, Hollywood blockbusters with leading special effects and innovative storytelling will attract young moviegoers, said Huang.
Zou Bo, an independent film critic, expects box office receipts for the Star Wars movie to be about 1.6 billion yuan ($246.7 million). There are similarities between the Star Wars: The Force Awakens and Universal's Jurassic World, which was released earlier this year, he said.
"They are both global brands that enjoy high awareness in China but haven't been released in a long time," said Zou. "It is important for them to cultivate large number of young generation of moviegoers."
Related:
New 'Star Wars' exceeds $1 billion mark
Historic 'Star Wars' debut hands Disney another hit franchise