Transformers star's hospital experience triggers healthcare debate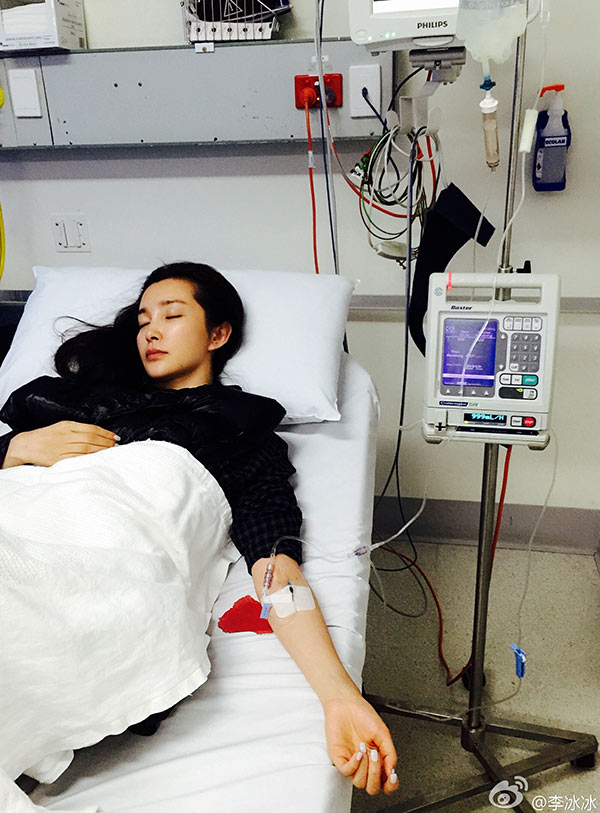 Chinese actress Li Bingbing rests on a hospital bed while receiving an intravenous drip in Australia in December 2015. [Photo/weibo]
The hospital experiences of a famous Chinese actress in Australia and China unexpectedly triggered disputes among the Chinese public over who can offer better medical care.
Li Bingbing, 42, known for her roles in Hollywood blockbusters Transformers 4, and Resident Evil 5, developed a fever on Nov 30, the second day after she arrived Down Under for a new movie.
The fever persisted for about two weeks, despite seeking medical treatment twice in Brisbane, the actress said in her Weibo, a Chinese version of Twitter. She didn't disclose the name of the hospital.
The actress said she felt frightened when doctors in Australia couldn't find what caused the fever. Pictures she posted on Weibo show her left arm bleeding after she was given intravenous infusion by medical staff, who pricked her skin several times before finding a right spot on the vein.
"It may kill me if I go on suffering here for another night," Li said in her Weibo post. Li decided to go back to China to get cured. She returned home on Dec 14 and was immediately hospitalized at Peking Union Medical College Hospital, one of best in Beijing.
Li was diagnosed with suppurative tonsillitis. Doctors said the inflammation was so severe and delayed that not only was it rare, but it could be endangering her life.
Li started to recover two days after treatment in Beijing. She fully recovered and left the hospital on Dec 22.
Her experiences then drew a huge debate online. Hundreds of thousands joined in the discussion, arguing as to who has the better level of medical service, China or Australia.
Many felt proud of China, saying that Chinese should never boast of Western healthcare systems.
"We have to admit that China's medical level is with the best, at least not inferior to many Western countries. People may not get a chance to see a doctor until they're dying in an American county. Some doctors even need books to help when making a diagnosis," Weibo user "Not sweet" said.
"Somebody other than doctors is finally speaking for China's medical system...as a medical student, I gained confidence," said another WeChat user, referring to Li's 2-hour wait to see a doctor in Brisbane.
Other argued it was largely because Li was given privileged medical care in Beijing due to her celebrity status. That medical care is usually not accessible to the general public.
"Li got treatment in the best hospital in China immediately and was soon cured because she was a movie star. It shows that medical treatment is more fair in Australia," Weibo user "Music rings" said.
Related:
Zhang Ziyi gives birth to baby girl